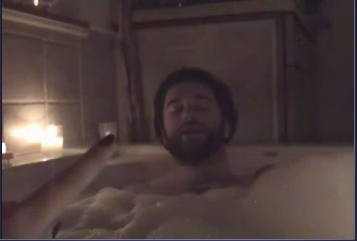 Dustin Diamond claims his hotel room sex tape
slipped into the world four years ago. But anyone who's
watched the tape
can see that story's obvious flaw. Within the first five minutes Dustin's naked in a bath tub with his girlfriend, Jennifer, telling her:
"I wanna watch the rest of 24... What episode are we on? Did we get Season Four yet?"

"Not yet," Jennifer answers, "I haven't bought Season 4."
Season four of
24
was released just 13 months ago.
Reached for comment today, Jennifer said, "I can't believe I'm catching shit for not being accurate in a statement during downtime in my own home. Half the time I don't even know what day it is... and I probably had wine to top it off. I probably meant
CSI
and had a brain fart."
In the tape, Jennifer responds to Dustin's request to watch
24
by chanting, "Kiefer! Kiefer! He's my man." (Kiefer Sutherland does not apppear on
CSI
.)
Monday, the celebrity sex tape's broker
told
The New York Daily News
that Dustin "made this tape in a St. Louis hotel room with two girls last summer with the intention that I would sell it."
But Dustin's girlfriend seems convinced that Dustin's hotel sexcapades with the two other women nevertheless happened in his distant past. "Considering the tape was about four years old, our little scene had to be before that... I still can't believe he taped over us."
If it's true, Dustin has been calling his penis "the monster" for over four years. Dustin also
insists
the tape was made shortly after he and Jennifer met in 2002. "Jenn found out about this and thought I cheated on her," he told
10 Zen Monkeys
while he and Jenn relaxed in their Wisconsin home. He says when she'd confronted him about his X-rated antics, his concern was "making Jenn realize it was a long time ago; it wasn't that big a deal.
"I said, 'You can't be mad. I didn't know you were going to be around!'"
Standing By Her Man
Monday's allegation that Dustin knowingly filmed the sex tape for distribution this summer is well-timed — right before this week's
Adult Entertainment Expo
in Las Vegas. On the implausible rumor that Dustin swapped in a cock double for the filming, Jennifer told the
New York Daily News,
"I would definitely know. I'm proud of my man."
"She's perfect for me," says the former
Saved by the Bell
star admiringly, "but at the same time she doesn't put up with bullshit."
They've already been through a lot together. In 2004, Jennifer suffered a miscarriage with their first child, after which they created the
Dustin Diamond Foundation
to support child care organizations. In 2005 Jennifer told a Milwaukee reporter they'd been married
since 2003
. But in November Dustin told me that "I'm not really married.
"We just say we're married because — might as well. I come home and hang my balls on the coat hook like any married man."
Jennifer, who met Dustin in an Arby's in 2002, is now also his manager. She promised to share the unique perspective this gives her on Dustin's sex tape before I interviewed him — but that changed when I made the call. "You know what? I'm not happy," she said. "I'm not commenting." And about the fact that Dustin says he taped over their bath tub sex tape for a sex tape with two other women?
"I am not happy about that either."
In the tape, Dustin exercises his former child star charm to seduce an alleged bride-to-be and her bridesmaid into girl-girl action involving a plastic dong. The "bride" even gives him a blowjob while wearing her veil.
You've done this before...
Only to my husband.
When are you getting married again?
Shut up!
(Dustin hums "Here comes the bride.")
But it's Jennifer's voice that's heard in a seven-minute bath tub scene spliced onto the beginning of the film, providing some intriguing dialogue of her own. ("That's quite a 'brat' you have there... Why is your toe going in there? Stop it! No seriously — do it again.") Both Jennifer's bath flirtations and Dustin's orgy with two other women were released on the now-infamous adult DVD
Screeched
. In November Dustin told me the tape must've slipped out after he shared it with his friends in 2002. "Four years is a long time to lose track of something."
He didn't want it released, he explains, but he was afraid it would leak out onto the web, and, "Once it's out there, the bottom line is the internet is unstoppable. I was faced with either spending a fortune fighting a losing battle, over years — and then it still gets out anyways. Or, you know — 'back door' this guy, no pun intended of course, and go around and sign off with this other company. I could make a fortune, potentially, instead of spending it on a losing battle."
Of course, the tape couldn't legally be released this summer without a signed release from the two other women Dustin says he met in a motel room four years ago. "Once our attorneys became involved," Jennifer tells me, "they spoke with the ladies and got the releases." After four years? "I guess Dustin keeps the numbers he gets," Jennifer speculates.
Adding, "Well he did...not any more!"
Controversy and T-Shirts
Other statements of the couple have faced scrutiny from the press — especially since Dustin announced he was in danger of losing his house. The organizers of an online telethon claim Jennifer
told them
, "This is more of a publicity stunt than anything. He is not really going to lose his house."
Dustin calls that's an outright lie, saying the disgruntled internet show concocted the quote for revenge when Dustin objected to their program's format. "We never OKed a telethon asking for freebies — we're selling shirts! We're not asking for handouts!
"They said, 'Well, we set up a telethon so that's what you need to be doing.' And we said 'Uh-uh!' And they got pissed off. We ended up leaving, and then they called up and threatened us, saying, 'We're going to tell the media this whole thing is a hoax.'
"Jenn said, 'It'll be slander and libel,' so we have allowed them enough rope to hang themselves."
But what about the newspaper article questioning their integrity? "My stand about the
Journal-Sentinel
reports is: they can suck my balls," says Dustin. "They can suck my balls, and I'll film it and sell it to Red Light District.com. 'Failed career'? Suck my balls!"
In the background, Jennifer laughs.
And about those stories that the t-shirts he'd sold
weren't even delivered
? "There's just some dickhead, some nerd out there, going, 'I'm going to take my ogre-slayer sword and hack into his server...' We weren't
getting
the emails and the orders!" He points out Paypal has procedures in place for that. "If they didn't get a shirt, they get their funds sent back. So no one's getting ripped off." And he argues that it was "maybe 100 or 200" — out of 22,000 t-shirts.
So if it was 22,000 shirts — at $15 a pop — does that mean Dustin made the $330,000 he needed for his house? Minus expenses, says Dustin — like shirt costs and shipping...
Wisconsin's
Journal-Sentinel
also alleged that Dustin wasn't even making payments on their house.
"That guy's a retard," said Dustin. "The internet gets like 99.9% of everything wrong."
It wasn't that he wasn't making payments; the financier had suddenly called in the entire loan, and, "I don't know how many people have a quarter mil lying around... What it comes down to is my lawyers advised me not to pay them once the legal papers came in, because if they
are
going to take the house, I'm just throwing money away for nothing. Plus, I tried to send them payments and they weren't accepting them because they were moving to try to take the house." But when I talked to him in November, he felt good about new financing he'd arranged (though he was still waiting for a final round of signatures).
More Unreleased Porn?
Ironically, shortly before the sex tape surfaced, Dustin was already selling a ring-tone that said "Buy a t-shirt...I really don't wanna do porn." (According to the
Journal-Sentinel
.) But when I asked Dustin about these four-year-old porn tapes, the conversation took a weird turn. "There are quite a bit of tapes that I hope
don't
get out." What's on the tapes? "Oh, dude. We'll see if any of those got out. We did some pretty gnarly stuff. Between me and this other guy, we pulled off some things that were guide-worthy."
I asked again what was on those tapes.
"I can't tell you. If I let the cat out of the bag... The Dirty Sanchez and the Fish-Eye would be part of that if it wasn't already out... We used to do a thing where we'd get people to do stuff on camera and compete with other people who did stuff on camera. We used to have a lot of fun with that. Like we'd get girls doing stuff that they'd never do."
I asked once more — what was on those tapes?
"I can't reveal, my friend."
I asked if he'd ever make a new sex tape, and he says no — at first. "I can't make a new one because of my lady, man. It'd have to be figures that would make her say yes, because I'm not allowed to to go on forays and expeditions any more."
So how many ladies did they tape?
Dustin claims the sex tape was part of a Hollywood contest of competitive sex-tape swapping. When I asked him how many sex tapes there were — among all the participants — he has trouble counting them up. "Between all of us? Um, maybe... (He sighs.) Lets see. Between, like, there are about, uh... (Another sigh) 13 of us doing it, and we did it for numerous months, so it's probably, between each one of us, over 8 months, or 8 times 13 or so — and then some of those had more than one girl, and some of those had one... There's quite a substantial number. Well over a hundred."
And how many times did he tape himself? "Maybe eight times, or something." The current sex tape is "definitely top shelf," he says, but using vodka as a rating system, "If this is Belvedere, there's definitely some Pravda and some Grey Goose up there. There's a few Kamchatkas."
But What About Screech?
I have to ask him about
Saved by the Bell
. In light of the sex tape, what does he say to fans complaining he's defiled their wholesome memories of Screech?
"People need to grow up," Dustin answers. "You're not a child any more. I think people would be more upset with finding out Santa Claus isn't real from their parents rather than finding out I ruined their
Saved by the Bell
dream. Does that happen with every childhood show? Are people upset because — 'Why did you do this to my
Small Wonder
.' You mean she's not a robot?'"
Dustin has spent years fighting the stigma of simply being a former child star. "I think people like to pick on me because I'm the only one who didn't come out of the grinder with — I'm not a junkie and I don't even smoke cigarettes! I came out of the Hollywood grinder pretty unscathed, and that pisses them off. They want to see me fail."
He says he's worked hard to revive his career, so intentionally releasing a sex tape would be the
last
thing he'd want to do. "I wouldn't have chosen the month where I was on Showtime with
The Comedy Show
and [an appearance on]
Knights of Prosperity
with Mick Jagger. I definitely wouldn't have picked that time period, plus getting signed to Universal Records to do my first comedy record. There's a lot of big stuff... You want 'I did a show with Mick Jagger,' not 'I got blowed with two girls.'"
Jennifer Gets the Last Word
Despite all the notoriety about his sex tape, in real life Dustin is often demure and protective of his girlfriend-manager Jennifer. When I ask Dustin if there was anything interesting edited out of
Screeched
, he refuses to answer. "Dude, I'm standing right next to my lady!" he insists.
"Remember, I hang 'em up when I come home. She throws them down the garbage disposal when its done."
Sunday she told me that their bath tub intimacy wasn't limited to 2002. "It's a common occurrence for us...even still." Jennifer was obviously uncomfortable when I interviewed Dustin, as he told me he'd slept with 400 women. "Jenn's like, 'I don't want to hear this,'" Dustin teased.
Then she told him to say that she was the best.
See also
:
Virtual Screech, Sexual Superstar
Dustin Diamond vs. Sgt. Harvey
Five Druggiest High School Sitcom Scenes