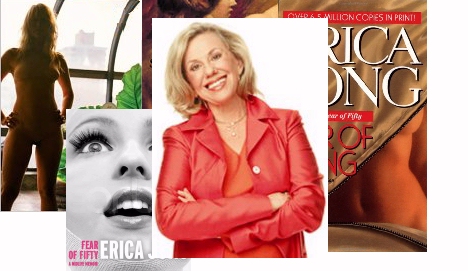 Yes, Erica Jong coined the phrase "the zipless fuck"
when describing sexual adventures in her 1973 novel
Fear of Flying.
But now she's talking about a whole body sexual sensation that's more like lightning.
She's outspoken, thought-provoking, and still has a lot to talk about — like when you're a legendary sex writer, what sex advice do you give your teenaged daughter? Why is the media so obsessed with Anna Nicole Smith? But I even asked Erica how her sex life changed as she's gotten older — and for once, I got a straight answer!
For a free month's subscription to "In Bed With Susie Bright," click here. The full audio version of this interview can be found here.
SUSIE BRIGHT:
There's been a certain type of book that's come out recently by a woman over 60 who says "Yes, I'm old, but my sexuality and my vitality are at their height." How you can continue to be Pamela Anderson at 80?
(Laughs)
I'm not buying it!
ERICA JONG:
Are you anywhere near 50?
SB:
I'm 49!
EJ:
Oh, god.
SB:
It's the last 40-something. So...
EJ:
In many ways it's wonderful to get older. Apart from the fact that you're on the ledge, and after your parents die, you're the next to fall in. You do think about mortality a lot.
If you're not a total mess, you think about generativity, and giving back, and — you know, teaching, and things like that. Which is the healthy part. But sex is not the same!
Because the men are dying. The men are becoming impotent. They're having heart attacks, and they're being put on blood pressure medication. Nobody's writing about that. (But I am in
my new novel!)
SB:
You make it sound like men are the only ones who are having a small health setback. What about the women?
EJ:
The women, for the most part, seem healthier than the men. At least anecdotally...
There are lots of ways out of this. Yes, you can find younger people. Yes, you can find — you know, your 30-year-old male lover with a constant erection. Apart from the fact that mostly they don't want women who are 60.
(Laughs)
Some do. You know. For whatever Oedipal reasons...
But one is too wise, by then, to think of it as anything but a zipless fuck. Or a zipless fuck-fuck-fuck-fuck-fuck — and done, because you don't want to be their nurse, and you don't want to be their purse. I did that when I was in my 40s. And you don't want to blurb their book — their bad book.
SB:
I'm sure that's a real turn-off sexually.
EJ:
"I will fuck you, and you can blurb my book!"
SB:
Ouch!
EJ:
If you've achieved a little bit of self knowledge, maybe that works once, maybe it works twice. Maybe it works three times — but then it doesn't work so well.
I'm not talking about a real, wonderful affair with a younger man — you know, possibly you walk off into the sunset together, or you always have this wonderful place in your head that you can go back to. Affairs with women seem to proliferate after 50.
SB:
After-50 bisexuality or lesbianism that wouldn't have happened before?
EJ:
Yes. I think it's mostly because the men are dead.
(Laughs)
SB:
You are so cruel! Your husband isn't dead!
EJ:
No, my husband isn't dead. But I'm talking about what I see around me. And then with the one that one loves, one has to re-invent sexuality. It can't be the same.
SB:
Everybody says "re-invent," but what would that really look like?
EJ:
Suppose he doesn't have an erection? You have to be whole-body — tantric sex. You have to change the way you look at sex, and him too, because men have a real problem with that. They're so focussed on their penis, you may have noticed, that making the change from focus-on-the-penis to focus-on-the-whole-body...
SB:
It's almost like the
symbol
of the erection as desire is more important than fucking for 10 hours without stopping. Because hardly anyone wants to do that. It's like the erection is the symbol of "You want me." It's what I'm accustomed to seeing.
EJ:
But even if you think it doesn't mean something to you...
SB:
Even if you pooh-poohed it, and said it wasn't a big deal....
EJ:
Even if you pooh-poohed it, and said it wasn't a big deal, as a woman, the infrequency requires a leap. But men have to also make that leap.
SB:
I just talked to a friend in his 60s who's just fallen in love over the phone with a woman. He says he gets hard the moment he hears her voice, and yet now that they're planning an in-pe