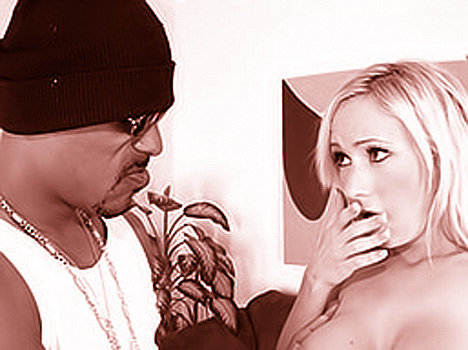 What separates Hillary Scott
from two of the most recent top-earning porn starlets, Jenna Jameson and Tera Patrick?
All three started off as fresh-faced, natural-breasted ingénues in the eternal Ed Powers series "Dirty Debutantes." All three ante'd up for silicon 'n' surgery. And all three had something special about them that made them the stars they are. But the difference is simple — Hillary Scott fucks black guys.
And is proud of it. No, even better, she
loves
it. While few besides Scott will talk about it, there's a tangible streak of racism running through the adult entertainment industry. This despite the fact that ethnic-themed videos are a huge revenue stream, and performers like Shane Diesel and Lexington Steele are familiar names to porn enthusiasts. I attempted to contact both for this piece, but assume my chances would've been better if I looked like Hillary Scott as opposed to Vic Tayback...
But I cornered the lovely and black-cock-lovin' Hillary before this year's Adult Video News Awards show in Las Vegas (natch), and asked her about life being an up-and-coming (literally) young starlet and those other young starlets who choose to avoid interracial scenes for fear of its impact on their careers.
Steve Robles:
What's a nice girl next door like you doing in a place like Vegas?
Hillary Scott:
(Laughs)
Well, it may appear that I'm a nice innocent girl, but inside, I'm kind of a dirty whore!
SR:
I should point out what a beautiful smile you have on your face when you say that.
HS:
Say it with joy. Say it with pride. "I'm a dirty whore!"
SR:
I've heard in interviews, some girls say that they hesitate to do inter-racial scenes because of what it'll do their career. What do you think about an attitude like that?
HS:
I think a girl that thinks doing inter-racial will hurt her career, it just makes her look like a racist asshole. I mean, it's just absurd to me. How are you going to say that? With all your black fans out there hearing that, and also all the black people in the industry, too, that's just incredibly offensive.
You either like all cock or you don't. If you don't like working with them because you're not attracted to them, then just say that. Don't say "It'll hurt your career." That's fucking racist! It's bullshit!
SR:
Speaking of controversies, here's another one. Female orgasms — do you think there are enough of them in adult?
HS:
I do not! I think a lot of girls are just straight-up hookers — they just do it for the money and they're not really enjoying it. And I can tell!
Working with girls you can tell when they're faking an orgasm or not. And I'm like, if you're there, and you're getting fucked — why not at least enjoy it? You know? And it looks so much better on camera.
SR:
I've never understood that myself. I've got lots of conspiracy theories about it. If you're a guy, and you've ever given a girl an orgasm — or if you're a girl and you've ever given another girl an orgasm — you're not going to fall for that for a single second! That kind of over-blown, "Oh! Oh! Oh!" — you know? Whereas I've seen you announce that you're going to have an orgasm — and then you have an orgasm!
HS:
Yes. In fact, I refuse to fake orgasms on camera. I refuse to! I'm like, if you want me to say I'm having an orgasm, then...somebody needs to give me an orgasm!
SR:
Have you been asked to do such a dirty thing?
HS:
Yeah. It depends on the director, but yeah! Some of them really need that in the scene, and I'm like, "Well listen, you know, let me give you something real."
SR:
Or give me a guy who fucks me 'til I come!
HS:
Or that! That would be preferable...
SR:
Do you see yourself getting into the business side or going behind the camera?
HS:
Well, I actually have already. This past weekend I shot a movie for Sexy Pictures. It's called
Extreme Asshole Makeover.
SR:
And what does that involve?
HS:
It involves pretty young girls getting their little tight assholes made over. And that includes gaping and double penetration and lots of fingering and big dildos in the ass. Good times!
SR:
Fun for the whole family!
HS:
Yeah!
SR:
What's up with this whole asshole bleaching thing, anyways? Are you into it?
HS:
I don't need it. I have a nice little pink, puckered asshole. But I think it's more for the girls who have the brown asshole, and it kind of always looks like they didn't wipe all the way. So, I don't need the anal bleaching, but I can respect it. I'm not gonna hate on the girls that need it and do it. Good for them!
SR:
So you did "Night Shift Nurses Escort Service" for
Hustler
. Do you like playing dress-up in your private life?
HS:
Mmmm... Not so much in my private life. All my weird fantasies and kinks? I get all that out doing porn. That's like my playground, and where I meet exhibitionists, and I get like... That's my dirty side.
See, when I'm at home, I'm the girl next door! But on camera, I'm the dirty whore!
SR:
I'm starting to get the picture! So when I say "romance," what does that mean to you?
HS:
Romance?
(Pause)
Geez. Well, romance to me, honestly...
(pause)
is absolutely nothing sexual. Because I have so much sex with so many random people all the time, that's like — that's fucking. So romance to me is like a nice, generic...and cuddling, you know, and my vagina and my asshole left alone! For just like an hour or so!
SR:
What did you do for Valentine's Day?
HS:
I've managed to be single on Valentine's Day every year.
SR:
It sucks, doesn't it.
HS:
It's annoying.
SR:
It's the one time of the year that you actually have to get defensive about being single.
HS:
Yeah, so what! I like being single. It's a choice!
SR:
Well, I know that your fans prefer you being single.
HS:
Well of course. I don't see why it matters. Even when I have a boyfriend, I'm still fucking on camera, you know? Still being a whore.
SR:
Now to the really important stuff. Tell us about being a Cannabis Cup judge. Now first of all, what makes you qualified for such a position?
HS:
Well, I'm kind of a pot-head.
I've kind of been one for several years, so I think I'm more than qualified to select a good-quality bud.
SR:
How did that work out?
HS:
The first day I went to Amsterdam I started doing shrooms, and I didn't really stop, so I never actually made it to the cannibis contest.
I was so fucked up on shrooms, that's all I did the entire time I was in Amsterdam. But, um, I'd have to say I had a lot of fun.
See Also:
Adopt an African Hottie's Clitoris
Pregnant Nympho Sex
Screech's Sex Tape Follies
World Sex Laws
Dana Plato, Porn Star