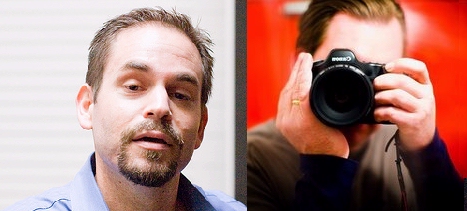 An art museum just issued a statement
condemning the "harassing" and "inappropriate" manner of Thomas Hawk's photographing of a museum employee Friday, and defended a staffer who confronted and ejected Hawk to "ensure the safety" of the employee.
But how was the employee's safety jeopardized? What was the harassment, and what was inappropriate about it?
The
six-sentence statement
on their web site "is the only comment that the museum is making on this matter," the museum's Communications Director told me minutes after posting the announcement. The employee at the center of the controversy was out of the office, but it's his normal day off, the museum assured me.
Has he been fired? I asked.
"Oh, no no no..."
I also spoke with a security guard who
was
fired after a confrontation with Thomas Hawk in 2006, an unwilling participant in the war over photographer's rights giving his first interview. Is there a new controversy over photography itself — and the blogger at the center of the issue? And has Friday's incident snowballed into a larger debate about technology, privacy, and the conduct of security guards?
"I realized how insane this was," one user posted
on FriendFeed,
"when people found the guy's Facebook profile and implored everyone to harass him there, and when people charted the vacation schedules of the guy's bosses."
WHAT REALLY HAPPENED?
For years San Francisco's Museum of Modern Art has maintained a "no photographs" policy for their permanent collection, according to Hawk's popular blog — but he's been taking photographs there
anyways
. "I've actually got a bunch more of what I'm calling renegade photography... I believe that as a non-profit for the general public's artistic enlightenment, that the SF MOMA should have a more tolerant photography policy and I believe that renegade photography is a good thing and will create a more vibrant and beautiful world for us all to share in."
Ironically, that visit in November was without incident, according to Hawk's blog. ("Several times I was asked not to photograph and I'd comply when asked only to whip out the camera and begin shooting again in the next gallery...") Instead it was Friday —
after
the museum lifted their ban — that Hawk reported an altercation. And within 24 hours, Hawk's
story
about the visit had made the front page of Digg, receiving a whopping
4,000 votes
. ("After purchasing my family membership and visiting the museum today I was forcibly thrown out of the museum by two museum security guards at the direction of the Director of Visitor Relations Simon Blint.")
Blint told Hawk he needed to protect his employees, according to Hawk's post about the events. ("He accused me of using a 'telephoto' lens to spy on his staff from the public staircase on the second floor," Hawk elaborated in the comments
on BoingBoing.
) An anonymous comment on his blog post claimed a female ticket employee "was sitting directly below where he was taking pictures and that she felt uncomfortable (especially when other VISITORS of the museum notice)." Another (also anonymous) commenter argued that "He was repeatedly asked to stop taking pictures of her (at least 10 that I counted) and was then walked out by my co-worker and I. We didn't even touch him."
"I offered to show my photographs to Blint and he refused to examine them," Hawk responded in the comments. "[A] simple review of my photographs which I offered would have easily cleared up any confusion. I was not provided this opportunity as I requested. I was simply ejected from the museum." Hawk added that he asked to speak to Blint's superior — and was refused. "I told him he was going to look foolish when I published the photo that I was taking, and gave him every opportunity to take a more rational approach to the situation."
It soon morphed from an incident to a full-blown internet phenomenon. Digg's commenters had located the email address for the museum's director (noting she was apparently on vacation, and speculating that "Mr Blint was acting out while the bosses where gone.") Five more email addresses were posted for the museum's PR staff (in a comment which got 37 Diggs) — and then someone located his Facebook profile. The comments capture the excited response.
"I'd like to wipe that smile off his face,"
"I just wrote him a nice little note: 'Looks like you F'd with the wrong guest...'"
"Wow, he's going to feel like crap the next time he Googles himself..."
The "Travel/Places" section of Digg had become ground zero for a discussion about ways to respond. "I probably would've snapped a picture of him just to piss him off, but that's how I roll," one user suggested. And Hawk seemed to be considering something similar while addressing an anonymous commenter on his blog.
By the way anonymous security guard, are you the one that made the "jerk off" gesture at me after evicting me from the museum or was that the other goon working with you? Maybe I should publish the photo of that. Not a nice gesture for a security guard to make to a paying member. I've largely left you two out of it because as far as I was concerned you two were just following Blint's orders. I'd be happy to publish photographs of you both as well though if you'd like me to.
A BACKLASH?
Hawk was accused of mean-spirited vengefulness by an anonymous commenter, who remembered Hawk's
2006 run-in
with another San Francisco 24-year-old security guard which led to the guard's firing. In his first interview, the security guard describes being on the receiving end.
"Because of 9/11, everybody was afraid of people taking pictures of their buildings, especially in the financial district," he remembers. He was told repeatedly during his training to tell visitors that pictures were not allowed. "It's just the policy of the company," he says. "You should approach the person and tell him that you're not allowed to take pictures of the building. Can you please stop? And that's exactly what I did about three times at least before he started going off on me."
Tim Gallen, a spokesperson for the building's owner, makes the same argument. "We all learned a lot of lessons after 9/11 and one of the ways you keep it safer is to try to discourage people taking pictures of the security installations that you've made to make it safer." Though the confrontation occured in April of 2006, "There's still a very big fear today that people come around and snap pictures of buildings that have been securitized."
There's just one problem. "You can't stop people from taking pictures of a building," says Neville L. Johnson, a lawyer specializing in media and privacy at the Beverly Hills law firm of Johnson & Johnson. "We can take a picture of the CIA's headquarters." The building may have its own policies, but "If there was no trespass, I don't see anything involved in taking the picture."
But the security guard was uncomfortable for another reason. "He was not taking pictures of the building. He was taking pictures of me."
Hawk has said that he hopes to take a million pictures over his lifetime — and he's leery of those who impose restrictions. "Increasingly we are living in a world where photographers are routinely harassed again and again by authority figures overstepping their authority..." Hawk argued on his blog. "While the 'photography steals your soul,' superstition seems to be long gone, a whole litany of replacements have taken it's place. I've seen people branded as pedophiles for shooting at public parks or their neighborhood swimming pool. I've seen people claiming 9/11 makes checking photography necessary..."
There was a heated discussion, remembers the security guard, when he spotted Hawk taking pictures. "I asked him not to, and then he started talking smack to me," says the security guard, whose first name is Alex. 'Don't tell me what to do. I'm going to do this anyways, and take pictures of you and the building and some other stuff.' I can't remember everything about it right, but at some point he got so angry that he used profanity, too. 'I'm going to fucking put your picture online and you're going to get in trouble and I'm telling you just go back into your building.' I don't remember exactly how he said it. The F-word was there."
The 24-year-old security guard had immigrated to America from Eastern Europe in 2002, and then learned the language — but in this situation, he felt helpless. "I knew I couldn't leave the premises of the building, so I got real angry. I just felt like a dog on a leash." Hawk captured the moment when the angry security guard flipped him the bird. "I know that I was not supposed to do it," says Alex. "It was wrong on my side. But I was kind of provoked into doing that."
Alex says that within 24 hours, the pictures were online, and Hawk had emailed the links to his employers. He was fired, and "I was out of a job after that for almost a year. I did part-time jobs, but I wasn't able to get a full-time job at the time. Plus, I had a lot of studying to do."
With his accent, he explained that he's never told his story "Because after reading the blog I understood that everyone that blogged was against me. There was not one word defending or saying something — 'Hey, maybe he's not right. Maybe this guy's defending himself'... There were at least two or three other cases where this or maybe some other photographers were taking pictures of security guards on purpose and making fun of them."
Eventually Alex obtained his degree, and got an IT job doing networking. He says now that "The security industry is not the best job if there's others. These other people try to make you look bad... I don't think it's right."
Thomas Hawk didn't return our request for a comment on the incident, but on BoingBoing he posted a response to one of Alex's friends.
"I'm sorry your friend got fired. Maybe next time he'll think twice about flipping off a photographer and trying to challenge their right to shoot in public. I suppose the better thing in your opinion to have done would have simply been to allow him to dictate where public photography can take place and where it can't because security guards deserve that power in our society.
"By the way, I later ended up with an apology from building management over that issue."
The building's current manager was also out of the office Wednesday, but calling their guard today, you get a more accommodating answer. "If you're not on our property, you can snap photos.
"We can't control that."
LEGAL ISSUES
Alex says he even thought about suing Hawk, but "I was overwhelmed with stuff going on in my own life — school, trying to pay my bills, the usual stuff... I don't have family here who help me out with money or anything else." Attorney Neville Johnson thinks it's a pretty weak case. "The rule is there has to be an expectation of privacy. Was there a reasonable expectation of privacy, and was the conduct basically outrageous? But with respect to somebody in the business world, that's not applicable." He says if Hawk antagonized the guard, he could be "castigated morally" but "It does not appear that there is any legal claim."
Though he adds that "It sounds like they both could use some schooling in etiquette."
Hawk is a CEO of Zooomr.com (a competitor to Flickr) but this latest high-profile incident has provoked a discussion about photography's changing role in an increasingly technological world. "[O]ne possible reason people are jumpy is the way that photographs routinely wind up widely circulated online," wrote one commenter. "I won't be surprised if within a year or two 'no video - no photography' signs are much more prevalent. Which is sad because a few of the jerks may ruin it for everyone who can photograph responsibly." Hawk himself has even posted his memory of
a sidewalk debate
with a cigar store owner in Los Angeles who didn't want his shop photographed.
But according to Hawk's latest blog post, his confrontation at the museum also included a discussion about the specific the type of lens he was using — and a commenter on Digg sees a bias against specific equipment. "As a Nikon D80 DSLR user, I find so many people consider a pro-looking camera a threat, while the point and shooters have no problems usually getting their cameras into concerts for example, or shooting people out on the street..." Attorney Neville Johnson notes that there are some specific anti-photography laws that only apply to certain types of photographic equipment. "There is a law in California that prohibits the taking of pictures with the use of a telephoto lens if someone is engaged in some personal or family-type activity... But you could use a regular lens."
Last month Thomas Hawk's photography led to yet-another confrontation with a security guard — this time at a Hyatt Hotel in Bellevue. "My wife and I were taking a few photographs in the lobby when we were approached by hotel security who informed me that taking photographs in the hotel was not allowed," Hawk
wrote
on his blog. "I argued with him a bit and told him that I was only taking pictures of bamboo. He still pressed on with his no photography policy. I finally got him to relent that if my wife were in the photo that I could still take the photo. As soon as he went the other way I started taking pictures again. Illegal, renegade photography."
Hawk titled the post "Boycott Hyatt Hotels," demanding an apology and a change in policy.
So I placed a call to Richard Walter, the hotel's Director of Rooms. "I read the blog, and certainly we apologize for what seems to be the overassertiveness of the security person," he told me. Professional photographers
do
have to get advance permission from the hotel — and to sign an agreement — and Walter argues that the appearance of the camera may also have contributed to the incident. "But I've spoken with the director of security at the hotel, and he's going to be conducting some sensitivity training in making sure his staff recognize the difference between recreational and professional photographers."
The photography controversy has stirred up strong feelings ("Photography is the skateboarding of the new millennium," one commeter joked on Digg — responding to Hawk's headline that "Photography is not a crime.") And the incident at the Museum of Modern Art prompted at least one particularly aggresive response: "My company is a big institutional donor to SF MOMA and I'm going to recommend they reconsider."
Hawk is not without his detractors. ("You are trying to carve out special rights for yourself," one commenter argued on Flickr, "because you feel entitled to do whatever you want whenever you want to do it.") But according to his blog, Hawk makes no apologies about using his platform on the internet to highlight obstacles in his way while practicing the art of photography.
"When I asked Blint for his last name his response to me was 'Why, so you can blog it?" to which I answered 'yes.'"
See Also:
Is Yahoo/Flickr DMCA Policy Censorship?
Steve Wozniak v. Stephen Colbert — and Other Pranks
Art or Bioterrorism: Who Cares?
Should YouTube Hear Me?
Twittering the Twitter Revolution