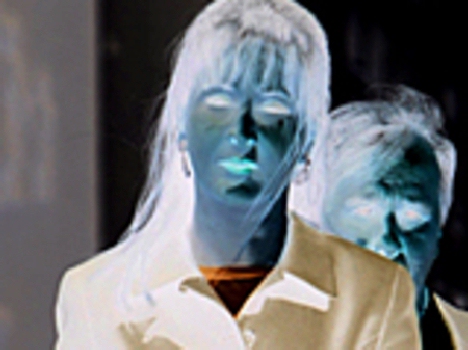 After Deborah Palfrey's suicide,
one sex-worker advocate blogged a message of sympathy, saying "I know who you're determined to haunt."
But eight weeks later, she received an email telling her that the D.C. Madam's ghost was talking back!
"I rather suspect this letter could come as a bit of a shock," warned "ghost whisperer" Daniel 'Trinity' Jackson. He identified himself as a professional astrologer — and "metaphysical teacher" — as well as an experienced psychic.
The 55-year-old astrologer lived 10 miles from Tarpon Springs, Florida where Palfrey had committed suicide in May. (Her body was discovered hanging from a noose in a storage shed behind her mother's mobile home.) "My reaction was simply 'This is really terrible'," Daniel says, adding that two weeks later, "I was at home in my living room when I became aware that another person, a spirit entity, had suddenly entered my consciousness and my body..."
Daniel says he now has the answers to the questions surrounding the infamous brothel-keeper's death. (Was Palfrey's suicide faked by government conspirators? Would she reveal the names of her famous clients?) Within 10 seconds, he'd identified the visiting spirit as Deborah Jeane Palfrey. (And to make sure, he'd verified it — with another psychic.) In July, Daniel was ready to contact the sex-worker advocate to say the madam was now available for questions.
The offer was declined, but
10 Zen Monkeys
eventually conducted our own brief interview, emailing questions which would be relayed to the dead madam's ghost.
Would she reveal whether her suicide was faked by wayward government agents?
Yes.
Her ghost says...
This is absolutely false! I am solely responsible for the manner in which my life ended. There was no conspiracy that I became aware of to kill me. And even if there was, it was not successful. I took my own life; it was my decision, end of story. Or is it...?

The Government was my own dark shadow. The Government is very often our own personal dark shadow. Once we begin to recognize this we can move past the guilt, punishment, blame games and victimization. Until such time as the Human Race gets really, totally and completely fed up with limiting beliefs and values, our Government will stand as a reminder, a grim reminder that we are anything but a free people living in a world of real freedom and personal fulfillment.
Her ghost sounded much more philosophical than when we published this
2007 interview with the D.C. Madam
— although it's possible that four months in the afterlife puts things in perspective. But an even more surprising revelation was that after running a brothel and hanging herself in Florida ...the D.C. Madam had gone to heaven!
It's not an either/or proposition! There is no afterlife judgment, no eternal condemnation, no 'fire and brimstone' and no angry God to punish anyone! Now there is a place for 'cleansing and repair' that certain individuals will have to endure briefly that forms all of the ancient myths about 'the fires of hell,' but that condition is temporary! It doesn't last forever!

I already briefly went through that myself and I write at length about that in Chapter 10 of the new book.
The new book? Yes, according to Daniel, it seems Palfrey's wandering ghost had kept coming around day after day, holding forth in long beyond-the-grave conversations. "I thought she might ask me to try and send a message to someone living that she was concerned about," Daniel says — but that wasn't it. She had wanted to learn "her disposition and her destiny" in the afterlife. But while she was doing that — she'd decided to dictate a book through him.
In fact, Daniel had originally contacted the sex-worker advocate to see if she'd write the foreword for his book, and maybe promote it on her site. ("Assuming this book is commercially successful, Deborah and I are agreed that substantial portions of the proceeds will be donated to a legal defense fund for women accused of prostitution or pandering and to women victims of rape and other sex related offenses.") And besides, he wrote sympathetically — dictating a book from beyond the grave might give Deborah closure.
Daniel also sells "Pre-Paid Astrology Services," according to his web page
at freewebs.com
. (Ten sessions cost $425 — with readings of children available for just $60!) But it was apparently much trickier to write an entire book with a ghost. "I literally let Deborah take full control of my body and she typed the book herself!
After Deborah finished each session, we would examine the manuscript together and occasionally I would offer editing suggestions... Deborah also received some assistance from some very wise "Guides" where she is in the afterlife.
There have been other responses to Deborah's death. Last month her 76-year-old mother went to a Florida courtroom urging some privacy over the death of her daughter, requesting that police photos of her daughter's corpse not be released to the public. ("This is the last thing I can do for my daughter," she
told
the judge. "Please don't let these pictures get out in public.") The judge ultimately ruled that the public could view the photos, but that they couldn't be published or duplicated. It seemed like the final possible episode in a year of fierce notoriety.
But had this helpful Florida psychic found a way to deliver the last word? Besides the political questions surrounding her notoriety — what powerful men secretly visited her service? — there's the bizarre vengeance in having the names spoken from beyond the grave. Last year bloggers pondered
a rumor
that Dick Cheney might even be on her client list. Through Daniel's psychic connection, Palfrey's ghost finally stepped up to the plate, and gave us an answer.
Sort of.
Her ghost continues...
Suppose for a moment I named more Government People in my new book channeled through Daniel Jackson. Such information would be nothing more than an assertion — hearsay — because Daniel does not have access to my personal records from Pamela Martin Escort Services. So legally speaking at least, naming more people could be dismissed as fabrication to sell the book and Daniel couldn't prove it unless he could obtain my business records...
The grateful ghost couldn't leave her psychic channel facing a libel charge "or possibly even worse." (Though she did add graciously that "My Channel Daniel by the way has worked and worked tirelessly for months to bring this book into reality.")
Daniel acknowledges that some people may be cynical about the validity of his claims. "I understand and appreciate that segments of the public do not recognize or accept either an afterlife or the possibility of psychic contact with spirit entities." And what's his response?
"I always leave it to individuals to decide for themselves the validity of such claims of contact."
Chapter Nine of the book even reveals that being dead has given the D.C. Madam the ability to see into the future.
It will also be discovered that love can be both amplified and transmitted exactly as if it were radio waves sent across the planet... By Year 2089 such an instrument will be nearly as common as are cell phones today.
But the book doesn't end without answering the obvious question: What's it like being dead? And in the strangest twist of all, Daniel's book has given the story of Deborah Jeane Palfrey something no one ever expected to see.
A happy ending.
Most of what I have seen here in the afterlife is just absolutely, positively remarkable; it's called Heaven for really good reason...!

[I]n my final moments on Earth I found myself hoping either for a Tiki Bar that is always open, or maybe a mountain glacier made of butter pecan ice cream and spiced rum cake but instead I think I got something much better!
Read The Book's Epilogue - "The Lesson I'll Never Forget"
and excerpts from five chapters
See Also:
Death of a Madam
The D.C. Madam Speaks
California Cults 2006
Scientology Fugitive Arrested
Dead Woman Blogging