By
Destiny
October 31st, 2008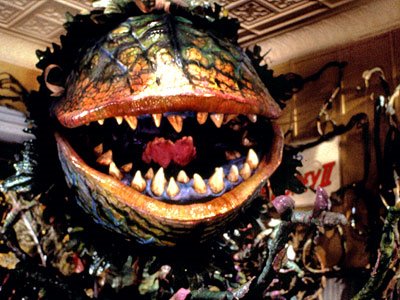 The web has resurrected
a rare alternate ending to a 1986 musical about a monstrous, blood-sucking plant.
The spectacular 24-minute sequence shows an army of giant plants rampaging past city skyscrapers, overturning cars, swallowing railroads, and demolishing New York City, Godzilla-style. The U.S. army discovers the plants are bulletproof, and as helicopters flee, the plants swarm over the statue of Liberty.
It cost $5 million, took 11 months to produce, and has never been released.
Well, almost never.
Ten years ago, "Little Shop of Horrors" was available on a DVD including the toothier alternate ending — for exactly
five days.
But Warner Brothers failed to secure the proper copyrights for the alternate ending — and the DVD was recalled. For the next decade, producer David Geffen and Warner Brothers wrangled and promised to restore the original ending, until Warner Brothers finally discovered in 2007 that it had already been burned in a studio fire.
But while Hollywood argued, the coveted footage quietly slipped onto YouTube.
Watch Part I, Part II, and Part III
Fans of
the 1986 musical version
will recognize the ending's opening scene, which starts with the same shocks as the original off-Broadway theatrical production in 1982. (Blonde flower shop worker Audrey tries to water the enormous plant — which decides that it'd rather eat Audrey.) But the film makes explicit what was only implied in the stage musical's darker final number. Standing in front of an American flag, the three chorus singers (dressed in ominous robes) explain that "subsequent to the events you have just witnessed..."
The plants worked their terrible will
finding jerks who would feed them until
the plants proceeded to grow and grow
and began what they came here to do
which was essentially to

eat Cleveland
and Des Moines
and Peoria
and New York

and where you live.
Ironically, the additional footage contained a prophetic scene with an agent haggling over the rights to the plant. He shouts "We don't have to deal with you. A god-damn vegetable is public domain! You ask our lawyers!"
A Long Strange Trip
There's something cathartic about the forbidden mayhem — and ironically, the raw cut returns the movie to its black-and-white roots. The legendary B-movie producer Roger Corman filmed
the movie's original version
in just two days — using sets that he'd borrowed from another film.
But his movie, released in 1960, marks a very real milestone in Hollywood history. "There was a big rush to finish before New Year's Eve," recalled Jackie Joseph. As the film's lead, she was interviewed for
a 1988 book
about the film, and remembered that "starting in 1960 you'd have to pay residuals." In fact, the site DVD Talk
argues
that when budget-conscious Corman finished his movie, something died in Hollywood forever. When the clock struck midnight on New Year's Eve, 1960, "drive-in films were stopped cold by the advent of residuals... Anyone who has studied Corman knows that this must have struck him like the bubonic plague."
But then again, the movie's weird idea had only sprang to life after "Roger and I went bar-hopping again on the Strip," according to Charles Griffith, the film's scriptwriter. (In Roger Corman's
autobiography,
Griffith remembers that while the two men were brainstorming, "I got drunk and ended up in a fight at Chez Paulette.") Somehow that inspired the idea of a cannibalistic restaurant chef — which became a man-eating plant for
Little Shop of Horrors.
23-year-old Jack Nicholson appears briefly in the film as a dentist's masochistic patient, but it would've languished in obscurity if it hadn't been for two 11-year-old boys. They saw the film when it was released, and 20 years later, Martin Robinson and Howard Ashman turned it into a wildly successful off-Broadway musical.
The scriptwriter's other credits had included
Attack of the Crab Monsters
,
Death Race 2000
, and part of
Barbarella: Queen of the Galaxy
, so I want to believe he'd have some affection for the horror movie fans who finally uploaded the "lost ending" for the movie's musical version. And the movie seems to have haunted other lives as well. Mel Welles — the character actor who played Mr. Mushnick in the 1960 original— launched a web site 38 years later to share his memories about his work in Hollywood. At MelWelles.com, he held court for seven years, until he died in 2005 at age 81. (At the time of his death, he was reportedly working on a screenplay called "House of a Hundred Horrors.")
The strange magic continued through another generation, since the musical movie — released 26 years after the original — intersected still more nascent careers. The movie was directed by Yoda puppet-master Frank Oz, and featured Steve Martin as a sadistic dentist. John Candy did a memorable cameo, and the film also featured Jim Belushi and Bill Murray. And the voice of the blood-sucking plant came from Levi Stubbs, the baritone singer from the Four Tops who died just two weeks ago at the age of 72.
Maybe it's fitting that the story lives on for another generation — and on Halloween night, Stubb's voice haunts the web one last time.
See Also:
Secrets of the Perry Bible Fellowship
The Great Wired Drug Non-Controversy
Prescription Ecstasy and Other Pipe Dreams