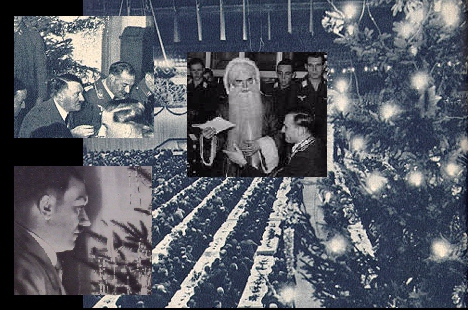 What was Christmas like with Hitler?
The answer comes from a Michigan communications professor, who's created a disturbing web collection showing the Third Reich's attempt to convert the holiday into military propaganda. But Christmas of 2008 also finds authentic reminders of the Nazi era turning up on eBay and YouTube. The question is uncomfortable, inappropriate — and morbidly fascinating. And fortunately, some comedians on YouTube have supplied the last word.
Randall Bytwerk teaches communications at Calvin College, and his web exhibit of Nazi propaganda offers an actual glimpse of the murderous dictator at Christmastime.
"Hitler had thousands of Autobahn workers as his guests in the Berlin Sportpalast at Christmas 1938," explains
an upbeat pamphlet
called
Everybody's Hitler!
. "Note the Christmas trees... Hitler's enemies lie when they say that Christmas has been abolished in Germany." (After invading France, the Nazis were assuring its Alsace province that der Führer still celebrated the holiday.)
Another photo shows a decorated tree behind a festive Christmas dinner for Hitler and his soldiers. The
blitzkrieg
isn't mentioned, but the site does remind us that later — of course — the pamphlet was translated into Dutch.
Professor Bytwerk shows that during the Nazi regime, Hitler's culture department continued producing
a Christmas booklet
with magical stories, festive songs, and lavish illustrations. (The 1944 edition was 200 pages long.) Several pages quoted the fanatical Christmas Eve speeches of propaganda minister Joseph Goebbels.
On this evening we will think of the Führer, who is also everywhere present this evening wherever Germans gather... The flag and the Reich shall remain pure and unscathed when the great hour of victory comes.
Like Santa Claus, Hitler is everywhere — and he probably sees you when you're sleeping, and knows when you're awake. The book even includes an apparent Christmas card from der Fürhrer himself displaying a red flower with an inspiring Christmas quote: "All nature is a gigantic struggle between strength and weakness, an eternal victory of the strong over the weak."
Another site actually shows Santa
paying a visit
on Nazi officers and their girlfriends in Christmas of 1944.
But the Nazis ultimately had an insidious agenda for the holiday, and Hitler's propaganda department could show Bill O'Reilly what a real war on Christmas looks like. "The Nazis were out to transform Christmas from a Christian holiday to a celebration of the family in a National Socialist context,"
writes
professor Bytwerk. In 1943 the Nazis released a 64-page pamphlet for Advent which never mentions Jesus. A drawing of lonely soldiers is captioned:
Through your bravery, you give us at home a lovely Christmas season. Each child, as he sees the candle's glow and sings the songs, thinks of you, full of thanks.
The most disturbing entry is
a Christmas story
about three men lost in the woods — a king, a soldier, and a wood-cutter. Bright stars light a poor woman's hut where she holds her newborn child. She advises her visitors that children fulfill the promise of the future, and the three visitors offer him gifts. "Nazi propaganda intended to remove as much of the Christian content of Christmas as possible," writes professor Bytwerk, "turning it into a family festival with German racial overtones."
There's a page for each day of the month, but each entry is intensely secular, like a sample children's letter to a soldier on the front. ("Mother is already baking for the soldier's package... We think of you so often, especially when we hear the news on the radio...") One YouTube user has even found
a clip
of a documentary showing Goebbels' Hitler Youth propaganda for Christmas of 1942.
More than 65 years later, it's still a painful subject, and in 2006 the German magazine
Spiegel
uncovered
a bizarre incident:
Germans shopping for Christmas trinkets have been shocked recently to discover row upon row of Santa Clauses looking to all the world as if they are giving the Hitler salute — right arm, straight as an arrow, raised skyward. Never mind that St. Nick is carrying a bag of toys and wearing a silly red hat complete with a white pom-pom. Shoppers were sure — these Santas were Nazis.
It's still possible to buy Nazi artifacts on eBay, including Nazi-era coins and stamps — but not in every country. "This item cannot be sold in Germany, Italy, France, or Austria," reads one page description, "as stated in Ebay Rules." But the web has found more than one way to remember a dark moment in world history. In fact, 2008 ends with Hitler starring in his very own humiliating meme.
There's at least half a dozen videos on YouTube swapping in silly subtitles for Hitler's dialogue in an intense movie called
Downfall
.
The original film
chronicled Hitler's final 12 days in a bunker in Berlin, receiving bad news from subordinates as his military crumbles.
But now web wise guys have the dictator ranting insanely over trivial slights — poor attendance
at Burning Man
, the
subprime mortgage crisis
, getting
his avatar banned
from World of Warcraft, or struggling to
upgrade Windows Vista
. Inevitably, last week someone appropriated the meme to show Hitler complaining about the cost of buying Christmas presents.
"Those of you that think I am being unreasonably cheap better leave now..." a furious Hitler warns his staff.
Magically, the footage has been re-titled again and again, forcing Hitler to endure every possible insult of fate, and this latest video shows him being slowly bankrupted at Christmastime — by requests for iPads and 3DTVs.
See Also:
A Christmas Conspiracy
Christmas 2.0: Subverting the Holidays with YouTube
Death at Christmas
Five Awful Thanksgivings in History