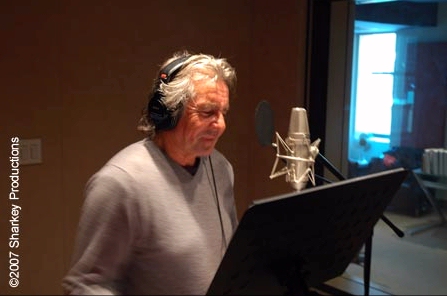 1. The Greatest Story Ever Told
I'm a fan — and there's one song Davy Jones should be remembered by. In 1986, the 41-year-old former teen idol recorded his own secret anthem. I think of it as his personal "My Way" — an original song about a life spent in show business, where (more than most performers) he'd spent years trapped by his own fame. "We had them eating Corn Flakes out of the palm of our hand," he sings wryly at one point, and there's an ironic nod to the title of one of the first Monkees songs ever recorded, "I Want to Be Free."
The song has real grace, showing that Davy Jones ultimately made peace with his strange fate. (He titled his 1987 autobiography
"They Made a Monkee Out of Me".
) And on a forgotten corner of YouTube, in a home-grown video that's been viewed less than 100 times, a hardcore Monkees fan has lovingly annotated the song with a poignant collection of clips.
"I've done it all, from A to Z.
And I want to be free..."
Click here for the complete lyrics.
2. When Davy Jones met Frank Zappa
The last act of the Monkees was a forgotten psychedelic film called "Head" where they mercilessly deconstructed their own celebrity. ("The money's in, we're made of tin. We're here to give you more!" they sing at one point.) And when the film finally arrived at Davy's segment, it finds him trapped in a song-and-dance persona, singing a strange song written by Harry Nilsson. Davy turns in a mind-boggling dance number where his black and white tuxedo turns to white and black, while he sings up a weird childhood memory about the day he realized that "his father was not a man, and it all was just a game."
Davy suddenly does a dramatic spoken-word rendition of the song's last line — "if I ever have a son...let the sadness pass him by" — only to be jarringly snapped back into his song-and-dance persona once more. But at the end of the song, he's confronted by Frank Zappa himself — escorting a cow — who tells him that the song "was pretty white".
Zappa adds, possibly sarcastically, that the youth of America depend on Davy to lead the way.
3. Marcia, Marcia, Marcia
At the age of 54, Davy joined with the other Monkees for
a reunion tour
— and he'd shared a strange story about that time when, at the peak of his "teen idol" career, he appeared on an episode of
The Brady Bunch
in 1971.
In the episode, teenaged Marcia Brady tells her high school that she can get Davy Jones to sing at their prom — but she can't actually get in touch with him, because hundreds of other teenaged girls are already swarming outside his hotel. Davy overhears her story (when Marcia bursts into the sound booth at a recording session) — and then later surprises Marcia by showing up at her house, and asking if he can be her date for the senior prom. "I got hate letters from every other girl in America," Davy told the concert audience in 2002.
"Because I wouldn't go to
their
bloody prom...."
4. 1995's Grunge-y "Brady Bunch Movie"
Nearly 25 years later, Davy actually appeared on the big screen in "The Brady Bunch Movie" — but only to mock that same sugar-y episode (and the way Marcia always upstaged her younger sister, Jan). Davy had already been doing a live version of the song in a stage show called "The Real Live Brady Bunch." (Chicago's "Annoyance Theatre" would actually re-enact episodes, satirically performing a new one each week, with
Jane Lynch playing Mrs. Brady
and Andy Richter playing her husband.) When the troupe performed the "Getting Davy Jones" episode, Jones would play himself.
The cheesy 1970s show had become a campy touchstone, and the growing fascination ultimately inspired a big-screen send-up called "The Brady Bunch Movie" (co-written by the show's original creator, Sherwood Schwartz, and starring Shelly Long). Its premise was that the '70s family hadn't changed a bit, though they now lived in a very different mid-1990s world. And then yet again, Marcia announces to her high school prom that she's procured an appearance by that dreamy teen sensation, Davy Jones.
The real Davy Jones again sings "Girl", though he's startled to discover that this time, he's being accompanied by a grunge band on the stage behind him — who join in, and decide that his song is pretty groovy.
5. Nicole, Nicole, Nicole?
Surprisingly Davy also sang a song on another forgotten 1980s sitcom — but this time, in an episode acknowledging that show business can make you crazy. In a remarkable guest appearance on Paul Reiser's first series,
My Two Dads
, Davy played a flamboyant celebrity named Malcolm who drops in on the show's two single guys raising a teenaged daughter — with his entire entourage. ("That's my business manager, road manager, personal manager, and a gaggle of tarts.")
In the episode "Fallen Idol," the pressures of show business ultimately cause the high-strung singer character to lash out at his loyal teenaged fan, blurting out that "Malcolm is dead, and you killed him."
But to make it up to her, he later delivers a command performance in her living room of a sweet song written especially for her — titled "Oh, Nicole".
6. Your Personal Penguin
Cartoonist Sandra Boynton created a children's picture book about a penguin in 2006 — and
the book was packaged with a special recording by Davy Jones
. Even after all these years, Jones presumably still seemed like the perfect choice for the penguin's formal yet ever-so-friendly voice.
"I want to be your personal penguin,
I want to walk right by your side.
I want to be your personal penguin,
I want to travel with you far and wide..."
In the short "board book," a little penguin adores a hippopotamus, and promises to remain its best friend forever. (It's already racked up 26 five-star reviews on Amazon.) You can still download
a free mp3 of the bouncy song
from Sandra Boynton's web site. And the video above takes a peek at the session where it was recorded.
7. Sexina
I'd had a chance to interview Davy Jones back in 2008. Davy was already in his sixties, but just four years before his death, he'd recorded the theme for a campy new indie comedy called
Sexina, Pop Star Private Investigator.
("She has the boobs and the brains of a queen. She's every man's dream...")
"79-year-old Adam West plays a ruthless music industry overlord bent on destroying the sexy pop sensation [Sexina] with an evil boy band composed entirely of cuddly robots," I wrote
in my article.
And for the movie's James Bond-style theme, the film-makers had brought in "one of the original boy band singers."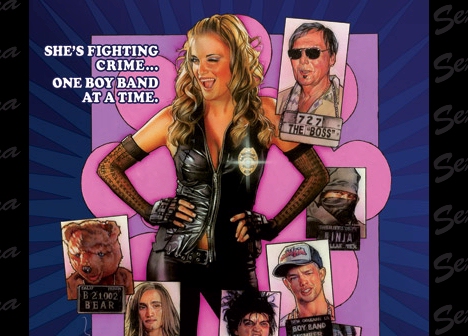 Click the image to hear an excerpt from Davy Jones' theme song for "Sexina: Popstar PI."
I'd always thought of Davy Jones as a smart, thoughtful man, confined to the life of a remembered teen idol. In the end I decided not to do the interview, but producer Eric Sharkey later assured me that he'd really enjoyed working with Davy, and saw him as someone with "a good philosophical outlook on life. Someone who's at peace with themself.
"He's got his horses, he's got his music — and he knows who he is."