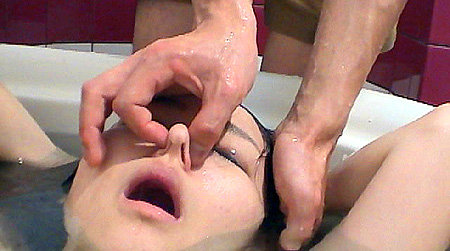 I'm not the first person to say this
, but there's an open letter I have to get off my chest:
Dear Japan,

Please stop experimenting with your sexuality in public. It's starting to freak us out.

Love,
America
It's not that I think there's anything categorically wrong with Japanese people or their sexuality. I don't. In fact, I have a hard time saying there's anything right or wrong about fetishes or an individual's sexualization of anything. I don't think there's a "normal" when it comes to sex. And for the record, I don't think Americans are any less bizarre with our sexual fetishes. (You're soaking in it.)
But I have to admit, sometimes things I find on some obscure Japanese fetish sex sites make me want to jack off to horror films (more than usual, anyway).
Take for instance my most recent discovery of yet another deeply obsessed, overly specific Japanese sexualization of something I'd never thought of: closed nose fetish.
The site
is ugly and the language barrier makes navigation confusing but let me take you by the
nose
hand with this overly, singularly, amazingly specific fetish, where women's noses are squeezed shut by their own hands or others, their noses are held under water in bathtubs, their noses are held shut with devices, and screengrabs from Japanese TV capture women mid-nose-closure, even if just for a second.
* Bathtub and water submersion nose-holding galleries.

* Big-tit, dick-sucking *nose holding* manga galleries.

* Japanese TV nose-squeezing screengrabs.
Dig a little deeper into the slightly disturbing recesses of this site and images emerge that make
The Ring
look like Jenna Jameson's latest girl-girl, fake-a-rama, feel-good film. And unlike other fetish sites I've come across in researching my
Fetish Sex
book, like one lovingly compiled head shaving image collection where there's nary an exposed titty in sight, there's no mistake that nose holding -- "nasal suffocation" -- is being sexualized here.
I supppose we should keep in mind that anything which turns someone on that's not in any typical catalog of things we culturally find "hot," is going to seem weird to some outsiders somewhere, like a freakish cabinet of throbbing curiosities. The hand of Darwin, when it comes to doling out what's arousing,
tends to be a blind hand
, sweeping some of us into panty-sniffing categories, or turning us into spanking enthusiasts.
On the one hand, no childhood accidents can ever be accurately tied to sexual fetishization -- it's all theory, mostly contrived by sex-negative people who want fetishists to feel bad about masturbating with stuffed animals. On the other hand, however, I just can't help but wonder upon finding sites like
G-Nose
, if Japan somehow didn't actually have some kind of painful sexual experience with their nose -- as a nation -- to become so into facial bondage. Did something bad happen to Japan's nose as a kid? What tickles a nation's collective ID in a particular way, to want to jack off to the contents of an entire office supply closet being applied to a pretty girl's face? Or drippy, stressful tentacle-nasal penetration scenes that don't really look like they're bringing the girls to... orgasm? I mean, perhaps the language barrier is preventing me from understanding that it's like Deep Throat and instead of the g-spot being pornologically located in the throat, it's really just up past a deviated septum, to the left or right -- don't worry, the tentacle will find it.
I guess ultimately it all means that I really should be more sex-positive, or open minded, about nose fucking. We all should.
See also: Sex for Memes' Sake
.