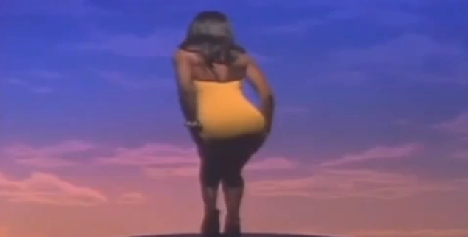 "Oh my god, Becky.
Look how much you
ate
over Thanksgiving!"
I'm determined to start a new holiday tradition, celebrating what's either
the tackiest rap video ever,
or an important cultural touchstone. (VH1 ranked "Baby Got Back" as the sixth-greatest song of the 1990s and one of the 20 best hip hop songs of all time...) Now as an obese America tromps from one holiday eating binge to the next, I've started looking back on this 1992 song as our secret national anthem to gluttony.
And at this special time of year, YouTube has finally supplied the answer to the question: Who else likes big butts — and they can't deny?
It turns out that it isn't just Sir Mix-A-Lot...
1. Jonathan Coulton's Juicy Double
It was 13 years after Sir Mix-a-Lot's song went to #1 on the singles chart and earned its infamous Grammy award for Best Rap Solo Performance. But absolutely no one expected that its next stop was this gentle easy-listening version created by singer-songwriter Jonathan Coulton. "In the proud tradition of many white Americans who came before me," Coulton
joked on his blog
, "I hereby steal and white-ify this thick and juicy piece of black culture."
The song's massive popularity
surprised even Coulton
, giving a boost to his young indie song-writing career. He'd never actually met the famous rap artist (though he warned readers that Sir Mix-a-Lot "is not an actual knight.") But five years later, some unholy DJ synched up Coulton's gentle acoustic-guitar and vocals to Sir Mix-a-Lot's original video, creating what is quite possibly the most disturbing music video ever.
2. Richard Cheese Stays and Plays
His band is called "Lounge Against the Machine," and he proudly tells Jimmy Kimmel that he turns popular songs into...crap. But in 2006, Richard Cheese created his own stunning swing version of "Baby Got Back," mimicking the stylings of a big band vocalist — albeit one who's "beggin' for a piece of that bubble."
In this jaw-dropping live performance, he follows it with an equally inappropriate version of Depeche Mode's Personal Jesus.
3. Burger King Says Here's My Scandal
Just when you thought it couldn't get any stupider — or any whiter — the Burger King delivers his own demented butt-related rap, dedicating it to Sponge Bob Squarepants. ("When a sponge walks in, four corners in his pants like he got phone-book implants, the crowd shouts...") It was 2009 when the fast food franchise icon launched this attempt at a viral online video, begging desperately for that "WTF" reaction, but stopping just short of the absolutely perverted.
"I wanna get with ya," the corporate icon raps, " 'cause you're making me richer."
4. The Groom Wants to Get With Ya...
A newly-married couple performs their traditional first dance together — but their wedding planner apparently wasn't satisfied with the song "Unchained Melody". 45 seconds later, their guests were in for a shock, though the couple had apparently been rehearsing for days. And since that fateful night in 2007, their two-minute dance floor extravaganza has been watched more than 13 million times in its various incarnations on YouTube.
"Aw snap that was HOT!" opined one critic on YouTube. "He was all like boom And she was all like pow..."
5. A Word to the Thick Soul Sisters at Walmart
"Attention shoppers, you're in for a special treat..." Somewhere a teenaged wiseguy has cracked into the intercom system at Walmart, and he's using it to announce to all the shoppers that "I like big butts, and I can't deny..."
He gets through about 13 seconds before he's cut off by an irate clerk — but the glorious video shows his utterly pointless attempt to return for a second chorus. And through the miracle of the internet, instead of annoying just a handful of customers at WalMart, he ends up getting watched by nearly 3 million viewers on YouTube.
Of course, they're also watching 90 seconds of his humiliating escort straight to the Walmart parking lot. And for what, asks a passerby? "For likin' big butts."
Yes, there have been many other versions of this song. (In fact, it actually formed the basis for
a whole episode of Friends
.) One rebellious animator created his own naughty dance video
using "American Girl" dolls
, and someone's even dreamed up their own
Gilbert and Sullivan version
.
There's also an
anime version
, one with violent
zombie-killing footage
, and there's even a bible version called
Baby Got Book
. But only the curly-haired prankster from "FatVids" dared to leave the safety of the internet, and to speak Sir Mix-a-lot's magical but forbidden words in public. And in one final conversation with Walmart's security guard, he breaks this song's appeal down into its essence.
"You think it's funny what you did?"
"Yeah!"