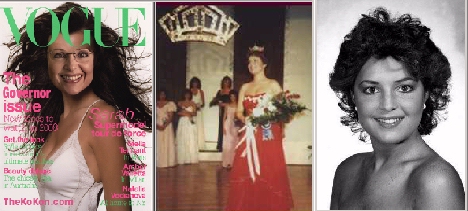 There's many strange facts emerging online today in the uproar over Alaska governor Sarah Palin...
Enthusiastic bloggers have already uncovered these 2007
photos from Vogue magazine
(plus a fake cover photo, pictured above-left) — and
this 1984 beauty pageant photo
. Her Wikipedia page was even edited to identify her as "the hot governor of Alaska" until editors increased the security on her page. (Vandals had swapped in a photograph of Hulk Hogan to represent the female governor, while another committed a
major revision
they described as simply "Replaced content with 'tacos'.") And the corrected entry still points to a URL describing Palin's smoking of pot — when it was legal in Alaska, though illegal under U.S. law. (According to an
Alaska newspaper
, Palin says she didn't like it and doesn't smoke it, but "I can't claim a Bill Clinton and say that I never inhaled.")
She's drawing lots of comments online. ("For some reason she looks like Kermit the Frog in this picture to me," wrote on Digg user about Sarah Palin.) But one user on Fark was more enthusiastic — "Jesus Christ. This campaign has turned into a Viagra commercial" — and within a few hours, Fark users had posted a whopping 2,700 comments. The snarky discussion continued
on Metafilter
, joking about how Sarah named her children Track, Trig, Bristol, Willow, and Piper. ("Dear GOD! Vice Presidents don't get to NAME anything, do they?!")
But Palin could also be the center of the biggest controversy for McCain's vice presidential pick. Dubbed "Trooper-gate," the potential vice president is currently being investigated by the Alaska legislature over charges that she pushed for the firing of a state official after they refused to fire her sister's ex-husband. (The couple was locked in a bitter custody battle.) It's been an especially messy divorce, according to
Alaska newspapers
. Her ex-husband "admitted to using the Taser on his stepson in a 'training capacity' and said he shot a moose on his wife's tag, but didn't think the act was illegal."
Governor Palin actually wrote a letter to his superior saying Molly's trooper spouse had drunk a beer at her house and then drove off in a state patrol car, "waving with beer in hand." And after an investigation, Alaska's Public Safety Employees found her ex-husband threatened Molly "with shooting her father if he hired a lawyer to represent her. Wooten denied making the statement, but [Sarah] Palin, McCann and Palin's son all confirmed that he did."
Sarah Palin joins McCain's campaign at a crucial time. According to
one focus group,
after viewing Obama's Thursday speech, more than 25% of swing voters switched from undecided to supporting Obama — or from supporting John McCain to undecided. Politically it's hoped that Palin can help McCain with conservative voters. (The Christian Coalition has already
issued a statement
praising Palin, who has said she believes schools
should teach creationism
.) Though ironically, Palin has also expressed
her support
for Barack Obama's energy plan.)
And she's currently taking some heat for an interview she gave
with the CNBC.
As for that VP talk all the time, I'll tell you, I still can't answer that question until somebody answers for me what is it exactly that the VP does every day...? We want to make sure that that VP slot would be a fruitful type of position, especially for Alaskans and for the things that we're trying to accomplish up here for the rest of the U.S., before I can even start addressing that question.
But today, it's the online world that's providing her first vetting. And many of the comments have been strongly unfavorable. ("My third grade teacher had more gravitas," wrote a user at
Wonkette.
)
U.S. News and World Report
asked "Will Palin Stand Up to Scrutiny?" on one of their blogs — and received a
withering critique
from a user named "Educated Female from FL."
She's is essentially a beauty queen....a housewife....that became Governor of Alaska.

We are one heart attack away from her as commander in cheif. [sic] Just like when Dubya picked Harriet Miers for Supreme Court Justice.

Why is it that Republicans always pick inexperienced females? Is it that they are trying to be equality minded, but can't get away from choosing someone that is really unqualified, because their insecurities won't let them have a female sharpie next to them? Their idea of women is hilarious...they are stuck on mommy.
Not every online voice is critical. A
U.S. News
blogger
argues
that she's a real asset for the McCain ticket. "[T]hough she comes from far-off Alaska, she will help—big time—in Montana, Colorado, and other western states that McCain has to lock up quickly. She can talk guns, and energy, and wildlife, and make conservative dogma sound reasonable."
But after watching McCain's press conference, Politico's Jonathan Martin saw her rural background as a negative — and put his finger on
yet-another strange oddity
about the life of Sarah Palin.
"There are more people in that arena than in the town she was mayor of."
See Also:
Why Sarah's Sex Life Matters
20 Wildest Reactions to Obama's Victory
Can Senator Lieberman Be Recalled?
Here Comes the Judge's Porn
War of the Candidate Music Videos
Is It Legal Porn or Illegal Porn?