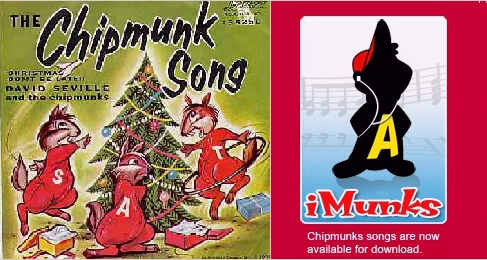 America has a love-hate relationship
with cute, fuzzy rodents. Not the scary kind that
steal American flags
, or
attack from outer space
. The kind that sing.
As absurdly meaningless as it seems, the last 50 years have seen Chipmunks darting in and out of the popular zeitgeist. My first podcast was about squirrels, and it culminated with the moment in 1961 when jazzman Don Elliott, along with partner Sascha Burland, convinced jazz legend Cannonball Adderley to do a duet with scat-singing squirrels. But his squirrels -
The Nutty Squirrels
- became casualties in a 50s-era culture war. ("Jazz was heroin, jazz was people dropping out of society," I riffed.) People weren't comfortable with the idea of nihilistic beatnik rodents, and ultimately America sought comfort in the familiarity of the Chipmunks.
Yet as 2006 began we'd seemed to have lost our faith in cheery cartoon animals altogether. The 1970s had already left both the Chipmunks and the Squirrels far behind, and Don Elliott moved on to writing the soundtrack for
The Happy Hooker
. Inexplicably, though, the Chipmunks made a brief comeback during the 80s with an album called
Chipmunk Punk
. Its Wikipedia entry argues that the album become "an integral and important part of the soundtrack of many Gen Xers' lives," and also claims — suspiciously — that Kurt Cobain modelled Nirvana's first album
Bleach
after the structure of
Chipmunk Punk
.
An indifferent world still left the Chipmunks facing an uphill climb. Glowing with Chipmunk-mimicking DNA, the son of the Chipmunks' original creator tried to spawn a revival of his father's characters. Sinking profits into a TV cartoon (which lasted for three years), Ross Bagdadsarian, Jr. then sunk his personal fortune into an ill-fated full-length feature movie which he wrote, directed, produced, and provided the voices for, along with his pregnant wife Janice. ("If rest and pampering were going to be the key to our child's intellect," he remembers on
his site
, "Janice was going to give birth to a melon.")
The 90s saw the franchise kept alive by unlikely novelty albums of
club music
, two
country
albums
, and gimmicky specials like
The Chipmunks meet Frankenstein
. The corporate suits at Universal Studios ultimately bought a controlling stake in the Chipmunks in 1996, though Bagdadsarian claimed in a lawsuit that the studio "undertook the systematic destruction of a family owned and operated business," according to an article in
L.A. Business Journal
. They also reported the suit's claim that Chipmunk-related revenue dropped 98% under Universal, though Bagdadsarian told the business journal that, "Everything turned out great in the end."
Universal ultimately gave him the rights to the Chipmunks, and he then entered a five-year deal with Paramount. Amazingly, American culture may see the Chipmunks yet again, as the article ends with talk of a 2008 Chipmunks movie written by Simpsons contributor John Vitti.
Meanwhile, Bagdasarian's lost Chipmunk movie from the 80s has finally been
released on DVD
, where it can delight and baffle a new generation of
online hipsters
. ("Diamond thieves? Interpol? Prepubescent chipmunk girls in belly-dancing outfits...? It's all here baby.") We can also expect new releases from the Chipmunks catalog, and even more Christmas specials.
And yet I had to wonder if Ross Bagdadsarian, Jr. feels haunted by the ghost of his father's 1950s success. If you slow down any Chipmunk record to half speed, you
hear his father's voice, triple-tracked
and performing
as all three chipmunks
. Of course, the ghost of jazzman Don Elliot can also be summoned by
slowing down the Nutty Squirrels
.
Music styles may change — jazz, punk, grunge, and dance mixes. But just like real infestations of vermin, the popularity of singing rodents is never really gone.