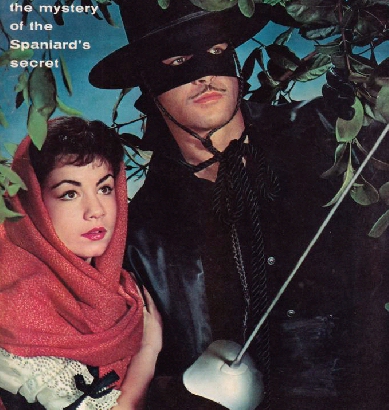 1. Sleeping with Zorro?
As a 15-year-old girl in 1957, Annette Funicello had a crush on the TV character Zorro, and "every night I drifted off to sleep hugging his eight-by-ten framed photo to my chest," she remembered
in her biography
. So the next year, Walt Disney had a special treat for the
Mickey Mouse Club
star — a guest appearance
on
Zorro (which was also produced by Walt Disney Studios). The delighted teenager got to celebrate her 16th birthday on the set, where Zorro himself carved a 'Z' into the frosting of her cake. And in that episode Annette also got to wield Zorro's infamous sword — "thrusting it into the chest of my no-good fiancé and sending him plunging off the side of a ship."
That episode was titled "The Postponed Wedding," but Annette's real life romances were more complicated, as she struggled with growing popularity. (Her biography also reveals that she discovered that "for a while one of my brothers was selling my phone number!") Annette lived with her parents until the day she was married, and at the time one tabloid boasted the headline "Annette reveals: How Far I'll Go Now That I'm Engaged." But on the day of her wedding, she received a death threat from a soldier, and remembered that ultimately "Saint Cyril's Church became a guarded fortress filled with unobtrusive Disney security people..."
As Annette marched down the aisle, she was wearing the veil that she'd worn in the Walt Disney movie, "Babes in Toyland". But this wedding wouldn't lead to a fairy tale happy ending. In her biography, Annette wrote that there was "a spat" on her honeymoon, that the honeymooning couple didn't speak to each other for two days, and that she called home to her parents crying. And that three weeks later, she was pregnant.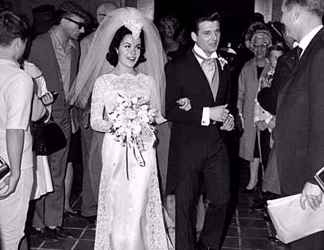 Her husband was Hollywood agent Jack Gilardi, and they had three children together, though daughter Gina once asked if her father was Frankie Avalon (Annette's co-star from movies like
Beach Blanket Bingo
), and if so, why was he never home for dinner? Annette got married when she was 23 — and got divorced when she was 39. Years later, she would even film a pilot for a dramatic TV series where she plays a sad widow whose husband was killed in Vietnam, who then meets up with a lost love from her teenaged years who'd tried but failed to become a successful nightclub singer...played by Frankie Avalon.
But in real life, Annette got married again to a former police officer who she met at a race track — and she tells a wonderful story about surprising her now-grown-up fans. They'd complain that they couldn't imagine discovering the former sweet and pure Disney star at a race track, holding a drink in her hand, and smoking a cigarette. "I also have three kids," Annette would remind them.
"So guess what
else
I do...?"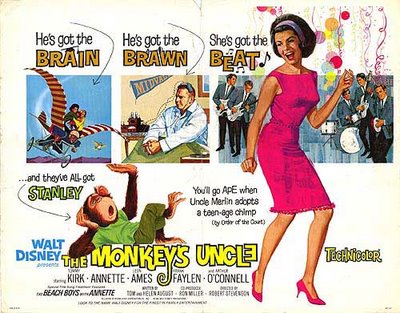 2. Devo, The Beach Boys, and Johnny Carson
Looking over her career, one of Annette's most fascinating songs was recorded
with the Beach Boys in 1965.
It was the opening song for "The Monkey's Uncle," a movie about a genius college student named Merlin Jones. "Let them say he's the booby prize," Annette sings, as the Beach Boys supply their familiar harmonies. "He's the boy I idolize..."
But a full 41 years later, in 2006, the Disney Studios released
a new album of songs covered by contemporary artists
— and chose "The Monkey's Uncle" for its final track. And in an interesting twist, the song was
performed by Devo 2.0
— a new generation of teenaged Disney performers, assembled into a 21st-century version of the pioneering new wave band, who were actually backed and produced by the original members of Devo!
Annette also earned a place in television history as the original performer of what eventually became the theme to
The Tonight Show.
But ironically, it all came from a failed attempt to date Paul Anka, another 1950s teen idol. Though their relationship didn't last, it produced an album titled "Annette Sings Anka" — and years later, Anka would create Johnny Carson's theme from the melody of one of the album's
more sentimental tracks.
("And now at long last, it's really love...")
However the most memorable track on that album is probably
"Hey Mama,"
if only for its misplaced set of teen-rebel lyrics, addressing a mother worried that her daughter will become "the leader of a teenaged gang..."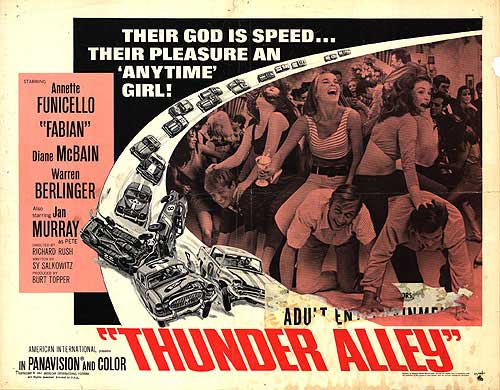 3. Grown-Up Movies?
Even in the movies, there's at least one scene where Annette gets luridly drunk — and then starts driving a race car around an abandoned track.
Fabian: You crazy broad! What's gotten into you?

Annette: Thatshh right, I'm a crazy broad. But you don't care...

Fabian: I'd kiss your silly-looking face if you didn't smell like a brewery..
In
Thunder Alley
(1967), the former Disney star played the daughter of a racing promoter who gradually starts to fall in love with the traveling driver played by Fabian, and tries to compete for his affection. ("Days of screaming wheels. Nights of reckless pleasure!" promises the movie's tagline. "Their god is speed... Their pleasure an 'anytime' girl!") It was her last film of the 1960s and her last film for 20 years, except for a brief scene in the psychedelic movie
Head
starring the Monkees. Although she was approached about appearing naked in a film — wearing nothing but that hat with the Mickey Mouse ears that she'd worn as a Mouseketeer — she declined the offer. ("People are more interested in changing my image than I am," she later
explained
.)
But reportedly, Annette did
confess to one interviewer
that "I did naughty things. There was a time, I was in my thirties, when I wanted to see an X-rated movie, OK? I bought a blond wig, and I got into the movie.
"It was boring."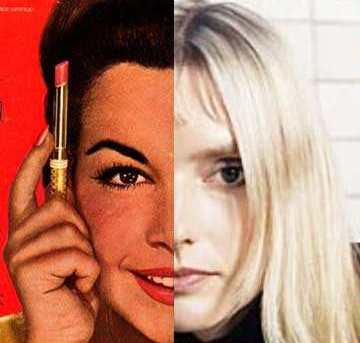 4. 125 stitches
Annette bravely struggled through a series of health problems — which was all the more difficult since it was years before the underlying cause was diagnosed as multiple sclerosis. For example, one night, she remembers that it felt like the room in her house had suddenly gone dark and started spinning, while Annette heard "loud, crashing bells." As she ran for the bedroom, she slipped on a ball that one of her children had left on the floor, and gouged her face on the side of a dresser as she fell to the ground. It took 125 stitches and some plastic surgery to repair Annette's face, she writes, and she later discovered that her right eye had a permanent blind spot.
But she also writes that immediately after the accident — and presumably still in shock — she'd blurted out to her husband that "I need to brush my teeth before we go to the hospital."
Annette hid the news of her illness for over five years — not even telling her parents. She later described this period as "Living a lie," and in
a 1994 interview with Tom Snyder,
she admits that "It was a hard choice for me to make... I tried to keep it a secret. I really did." Her reasons were "I just didn't want pity", and also, "I didn't want to worry anybody." But when she finally revealed the illness, she
told USA Today
that "Just being able to talk about it now is a big help."
She'd worried people would see her struggling to walk in a restaurant, and come to the conclusion that "'Annette's drunk'."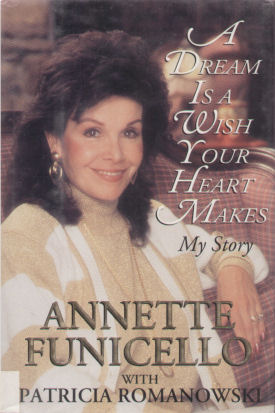 5. Ears Held High
Her star-dom peaked in the 1950s and 1960s, but Annette continued to hold a special place in the hearts of her fans — though she knew that the world was changing. At one point in his 1994 interview, Tom Snyder describes a commercial promoting the Vermont Teddy Bear Company in which Howard Stern recites the slogan "Give her a bear, she'll bang you!" Annette laughs gamely, then replies that "That's not very Disney." And she also confirmed that Walt Disney had indeed once asked her to never allow her navel to be photographed when she began making movies for other studios.
"How much would we have to give to see your belly button?" Snyder asks eagerly.
"I don't have one," she joked.
But during that same interview, she also comforts a 17-year-old girl in California who'd been diagnosed with multiple sclerosis just two weeks earlier, and later Annette would be recognized for the inspiring example she set in raising awareness about the disease. In 1993 she even founded the Annette Funicello Research Fund for Neurological Diseases, which
according to CNN
still remains active 20 years later, supporting research into their causes, treatments, and cures. Bob Iger, the new CEO at Disney studios, ultimately told CNN that she "was well-known for being as beautiful inside as she was on the outside, and she faced her physical challenges with dignity, bravery and grace."
It was because of her status as a former Disney-era icon that her openness had that much more impact. In a made-for-TV movie about her life, Annette said "It makes me so happy when I hear from people that my going public makes them feel stronger. They're not embarrassed to use their canes or to be in a wheelchair because if I can do it, they feel they can too." Though she was played by an actress in most of the film, she appears as herself in its final scenes. And she delivers its inspiring closing line — a characteristically sweet but ultimately very fair assessment of what it all had meant.
"Life doesn't have to be perfect to be wonderful."