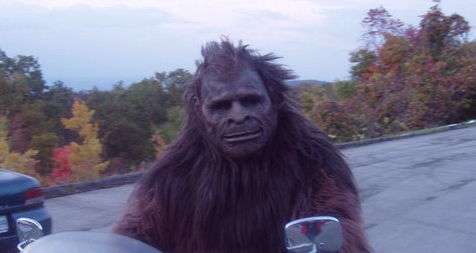 Is it Bigfoot?
Or a fugitive from the garden of Eden. Or maybe both.
The Journal of Mormon History
recently published a new investigation into stories suggesting that the giant Sasquatch monster is really Cain, the murderous second son of Adam and Eve.
It may not be the first controversy tackled by new Mormon President, Thomas S. Monson. But the article's author, Matthew Bowman cites a 1919 manuscript describing Hawaiian missionary E. Wesley Smith "being attacked by a huge, hairy creature, whom Smith drives off in the name of Christ" the night before the mission was dedicated. His brother tells him the attacker must've been Cain. ("Now therefore cursed shalt thou be upon the earth, which hath opened her mouth and received the blood of thy brother at thy hand...a fugitive and a vagabond shalt thou be upon the earth.") And then he refers him to a story by a celebrated Mormon martyr who was one of Joseph Smith's original twelve apostles.
In 1835, as evening fell, missionary David W. Patten had spotted a figure walking near his mule in Tennessee. His tall, dark body was covered with hair, he wore no clothing, and...
...he replied that he had no home, that he was a wanderer in the earth and traveled to and fro. He said he was a very miserable creature, that he had earnestly sought death during his sojourn upon the earth, but that he could not die, and his mission was to destroy the souls of men.

I rebuked him in the name of the Lord Jesus Christ and by virtue of the Holy Priesthood, and commanded him to go hence, and he immediately departed out of my sight.
"As best as I can determine, the explicit connection to Bigfoot arises around 1980 in Davis County, Utah," Bowman writes on the
Mormon Mentality
site. "At that point in time, you have a conjunction of two things — 1) the publication of
The Miracle of Forgiveness
, which reprinted the original Patten story; 2) a rash of Bigfoot sightings.
"By the mid-1980s, the two strains of folklore begin to fuse, and the story gains resurgence, particularly on Utah's college campuses."
The book of Genesis does specify that God issued the mark of Cain, "that whosoever found him should not kill him." But did that confer immortality?
On the
Mormon Folklore
blog, Bowman received an interested response from someone who'd heard Patten's story at the church's Missionary Training Center, "where he was on his horse and eye-to-eye with the standing Bigfoot."
[O]ne of the missionaries suggested that this is another example of Satan copying the ways of God. His logic was that God preserved the lives of John the Baptist and the Three Nephites to work as agents for Him until the end of time — Satan did the same thing with Cain (thus, the ability to live through the flood).
There's already been a controversy about the Mormon church's teachings on Cain. Brigham Young believed that God punished Cain's ancestors, and that "the mark of Cain" was: black skin. The same belief continued through a 1966 edition of the church reference book
Mormon Doctrine
, and black Mormons were banned from the church's priesthood. But at that same time, church president David O. McKay announced that "It is a practice, not a doctrine, and the practice will some day be changed." The position was ultimately reversed by church president Spencer W. Kimball, and the church ordained its first black priest in 1978. (Thomas S. Monson, the new Mormon President, conducted that priest's marriage and sacred ordinances.)
Eugene England, a professor at Brigham Young University, addressed "the Cain legacy" in a 1998 article in
Sunstone
magazine.
This is a good time to remind ourselves that most Mormons are still in denial about the ban, unwilling to talk in Church settings about it, and that some Mormons still believe that blacks were cursed by descent from Cain through Ham...

I check occasionally in classes at BYU and find that still, twenty years after the revelation, a majority of bright, well-educated Mormon students say they believe that blacks are descendants of Cain and Ham and thereby cursed...
Of course, Mormon theory has faced skepticism before, like the blog commenter who opined that "The bible is just a waste of paper and the Book of Mormon is even less useful." But regardless of its credibility, the new attention to the "Bigfoot" legend provided an interesting opportunity to examine the way the church's theology had evolved.
"I find the idea that Cain, the original Son of Perdition in our theology, would degenerate into something half human/half animal is notable..." wrote blogger Fenevad. "[D]id it occur when Brigham Young was teaching that the Sons of Perdition would fall prey to eternal retrogression? ... Perhaps one message of the story is that evil is big and scary, but ultimately controllable."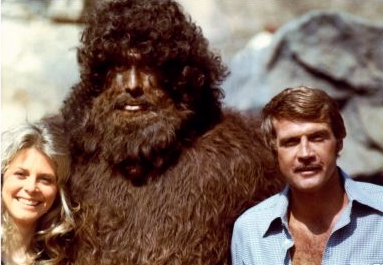 And another comment notes that it's not the first time monsters from folklore have found their way into religious debates.
That reminds me of the story that I used to hear that the Loch Ness Monster was a surviving dinosaur, thus proving that the earth is not as old as scientists say it is. Uniquely Mormon? No. But I have heard variations on that one as a way to argue for young earth creationism among Church members back when that seemed to be a hot issue.
Over at
Museum of Hoaxes
site, blogger Alex Boese couldn't resist making the obvious joke. "[I]f Bigfoot is Cain, maybe Nessie is really the snake from the Garden of Eden."
But in a 21st century flood of information and misinformation, the discussion offers its own testament to the way new generations will grapple with questions about faith, folklore, and our popular culture.
Even if the commenters at the Mormon Folklore blog add their own twist.
I also seem to remember a story about a noted church leader — I think his name was Childs — sitting next to Cain on an airplane and starting up a discussion about the Book of Mormon only to have Cain tell him that his mission in life was to destroy the souls of men, especially the younger generation...

Hang on, no, wait... that was Mick Jagger. My bad.
See Also:
Santa's Crimes Against Humanity
Give Me Immortality or Give Me Death
Thou Shalt Realize The Bible Kicketh Ass
Scientology Fugitive Arrested
Atheist Filmmaker Issues 'Blasphemy Challenge'