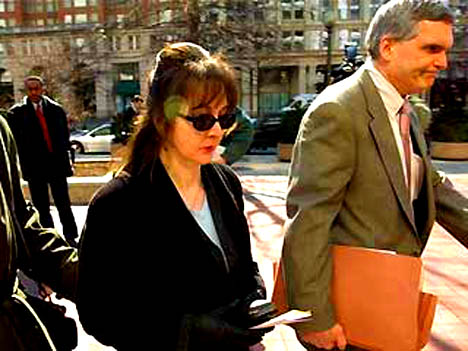 "I am not going back to prison. I will commit suicide first."
Deborah Jeane Palfrey made that vow last year, a friend told the Associated Press. Today she reportedly took her own life, just two weeks after a guilty verdict on charges of running a prostitution ring.
But in August Palfrey sat down for
a wide-ranging interview
with sex educator Susie Bright. "Public scrutiny is not her style," Bright noted at the time. Palfrey's personality, she concluded after the interview, is "very circumspect... afraid of being ridiculed or treated like a 'whore.'" And Palfrey had obviously spent decades "compartmentalizing," Bright concluded. The woman that the newspapers had designated "the D.C. Madam" had actually spent decades cordoning parts of her life from the rest of her personality, "and she's not about to change now.
"Lots of dissonance — oceans of it."
But as a long-term observer of the scene, Bright had also spotted something odd about Palfrey's legal predicament. "They really did a 'Hoover' number on her that is unprecendented for a prostitution bust. And I don't think she knows what it is they were after, either."
More than a dozen federal agents descended on Palfrey's home and executed a search warrant, according to the local newspaper. Palfrey said in the interview that "I was obviously sitting on a powder keg of information" (adding that "there is much still to come out.")
David Vitter is not the sole and substance of my entire 13 years of operation, that's for sure. I was sitting on something — or they thought I was sitting on something. I was under observation — J. Edgar Hoover-style — from as far back as March of 2004, until the trigger was pulled on me early in October of 2006. For 31 months I was being observed!
In September, Palfrey sent Bright a follow-up email with an announcement from her attorney. Palfrey's team was filing a
pro se
brief alleging that "the United States Government has been directly or indirectly benefiting from the operation of her service by monitoring her customers and is thus equitably barred from prosecuting her."
In January, more discouraging news arrived about the suicide of one of Palfrey's escorts — a former University of Maryland professor (according to the Associated Press), who was facing prostitution charges. Press reports note that Palfrey recruited the women who worked at her agency with advertisements in college newspapers. Originally Palfrey even bragged on the web that her service was staffed with escorts "with two or more years of college education, who either work and/or go to school in the daytime." (Though in October, Palfrey claimed to The Smoking Gun site that she'd already shuttered the business in August because all those college-educated escorts were "driving me crazy.")
Job-seeking females were told they must have a car, a cellphone and a "weight proportionate to height." (Palfrey's web site touted the job's "excellent income and flexible hours.") Over the last seven years, Palfrey reportedly earned $750,000 — which would represent at least 2,700 dates.
"Cash or traveler's checks only."
Unfortunately, D.C. investigators were starting to ignore Palfrey's compartments. Though she lived in D.C., Palfrey kept a home near the San Francisco Bay Area. (According to an affidavit published by The Smoking Gun, women were asked to send a photograph and application to Palfrey's P.O. box in Vallejo, California.) After being hired each woman was then required to "engage in sexual activity" (without payment) to ensure they weren't undercover policewomen. Upon seeing the affidavit, Palfrey concluded it was the Department of Justice itself that was actually leaking the information.
And there was another strange anomaly in Palfrey's case, Bright observed. "What's so funny to me is how cheap these services seem to be in D.C. You'd pay sooooo much more in L.A." Five weeks before her death, Palfrey
made the same argument
to a reporter at Newsweek.
All along, Palfrey has claimed she was running a perfectly legal "adult fantasy" service that stopped short of sex...now, she hopes, [Eliot] Spitzer's fall may give her claims an unexpected credibility boost...

"We charged between $200 and $300," Palfrey tells NEWSWEEK. Even if the Emperor's Club rates were inflated New York area prices, Palfrey says, her business "wasn't even in the prostitution price range.

"This whole scandal helps my case considerably."
Ironically, the agency was started in 1991 while Palfrey was still on probation after 18 months in prison for running "an illegal prostitution business" in California. In the August interview, Palfrey shared her memories of that fateful day 17 years ago, saying she'd viewed prostitution as a business opportunity.
You come out prison with a scarlet F — "Felon" — across your forehead. Despite the fact that I had a four-year degree, and a little less than a year of law school — I was a fairly well-educated, well-traveled, well-read, sophisticated young woman in my mid-30s... there was no chance in hell for me in this society — certainly not back in the early 90s — to go forward, to get any kind of a job, or to do anything.

I had no choice. My life was in tatters financially, emotionally... So, I was really not in a position to do much of anything but to go back into the business.

"And to go back into it in a way that I felt — and I believed — I would never have a repeat experience."
Palfrey had earned an undergraduate degree in criminal justice, and her new plan had consisted of opening her business as far away from California as she could — in Washington D.C. And, to structure the business so that hopefully no one would do anything "that would get me into trouble"
"And I guess I did a pretty dog-gone good job," she said proudly in August, "because for 13 years, from late 1993 until last August of 2006, we did not have one bust!"
Seven days a week "Pamela Martin and Associates" opened at 5 p.m., offering "best selection and availability" before 9 p.m. — for 13 years. "Entirely female managed, [our] philosophy is to develop an on-going and sound relationship of mutual respect and consideration, with each and every staff member," Palfrey told prospective employees on her site. "For those individuals without experience, regular guidance and assistance is offered, by seasoned professional(s)."
Palfrey believes she got onto the government's radar after putting her home up for sale and wiring $70,000 to Germany. "Which by the way was picked up on one of those Homeland Security terrorist watch programs — the ones which are supposed to be watching the terrorists?
"They were watching me."
In the last year of her life, Palfrey had a unique perspective on how law enforcement handles prostitution — and she had especially strong words about vice cops. ("They love to go after defenseless women.") She talked hopefully about going public with her complaints after her trial was completed. "It is something that I want to explore when this is all over — when my actual civil/criminal case is all over. I am even talking to some folks right now about putting together a documentary on what the police have done, do, and will continue to do to defenseless women in this country involved in the sex industry."
David Vitter, who had hired Palfrey's escorts, is still a member of the U.S. Senate, and in the interview Palfrey's outrage grew when she talked about the hypocrisy of politicians, saying she was on the same crusade as Larry Flynt.
"[Vitter] has the ability to send us to war, in part. He has a vote. We don't have a vote, but he has a vote. So these people not only are hypocrites — they're kind of dangerous. And these people can and should be exposed, as far as I'm concerned. And that's the very reason I let the records go as I did, in the very end.
Though ABC News concluded that none of her patrons were newsworthy, Palfrey shocked the world by releasing 46 pounds of her phone records. It fueled the aura of scandal around her trial, though Palfrey still remained baffled as to the prosecutors' real agenda.
"We don't know what the rationale has been for them to go forward with the case," Palfrey said in August, "other than the fact that we simply wouldn't fold and give them what they wanted. At that time, I think they pretty much wanted to just take my entire life savings from me. So of course they ratcheted it up a notch, and it went into the criminal realm."
She described the prosecution as "a tremendous shock" — though nine months before her suicide, there was one moment of optimism.
"Now that I am freed from the chains of this business, in a way that I never thought I would be free... I have great hope, in the coming months, as I work my way out of my current predicament, to end up in another place, obviously.
"And in that place, I hope, indeed, to find a nice man."