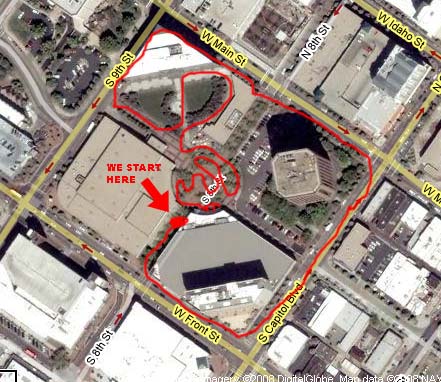 We parked and walked
to the Qwest Arena on the Grove, where the line snaked out and wound and looped around as shown in the above image. Typically, the line was 5 people thick, and I swear it felt like a mile walk from the beginning to the end. Ironically, the end of the line where we were at 6:30 was about a block from my wife's parking garage, where we started.
There were more than 8,200 Democrats there (and according to the
Idaho Statesman
1,600 people caucused in neighboring Canyon County, and more than 20,000 people showed up around the state — about four times more than in the last record year, 2004).
It was cold, and I felt like I was standing in a bread line in the Soviet Union. I felt sorry for the girl in flip flops and a miniskirt in front of me. But there was a lot of camaraderie!
There was no way we were getting in by 7:00, and Obama volunteers walked the line telling us that everyone was going to get to vote. Eventually other volunteers showed up with ballots, and we voted in the freezing cold. I filled in my ballot on a bus bench shaking my ball point pen to get it to work.
We left and got a cup of coffee. Everyone was talking about the caucus.
Some observations:
Although they got a bigger venue in anticipation of a record turnout, the state party needed to think through getting that number of people inside. Other doors could have been opened.
The Obama people were the best organized. In fact, they were the only ones organized! They were about the only volunteers I saw all evening.
I have a friend who got into the building, and he told me that a large area was reserved for Hillary, and no one was sitting there.