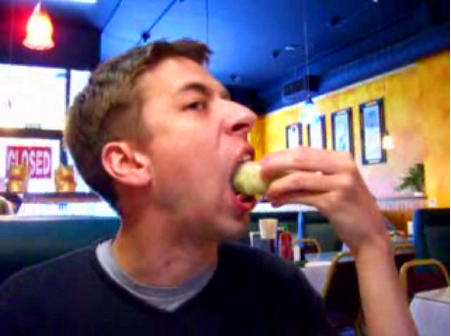 He's not sorry, he'd do it again,
and he's buying a gun.
Jason Fortuny became notorious after posting nearly 150
explicit photos
he'd received for a fake sex ad on Craig's List. Three weeks later he discusses the aftermath in a 29-minute online interview.
But is he really as cocky as he pretends to be? A close look at the footage reveals that behind the bravado is genuine fear. Although he remains unapologetic and bemused, his internet infamy has left him worrying about an unseen army of invisible enemies.
At one point they even have to stop the filming, because they'd inadvertently said someone's name.
"If you don't know who's stalking you," says Fortuny, "you don't know who's going to come after you in the middle of the night and, uh, kill you."
FEAR AND FIREARMS
"The internet is serious business," the cameraman jokes, noting later that the web page received over one million visits in two and a half weeks.
When reminded that there's a new Jet Li movie called
Fearless
," Fortuny admits it's "something that I am not."
"How many people told you to kill yourself?"
"I lost count after, like, 20."
A friend even asked an FBI contact about Jason's situation. "What's my recourse here, if I am being stalked, if I am being harassed. What can we proactively do to protect me?" He says their answer was that he could call 911.
"So when are you getting your gun?"
"Probably this weekend."
Fortuny concedes he's never taken a gun class, "but I had a Nintendo for a while so I got pretty good... I need everyone who's going to come kill me to please dress up as an 8-bit duck."
Some people genuinely wondered if he had a deathwish, "because some people are under the impression that if you piss off the BDSM crowd, they'll kill you." Instead he jokes that the BDSM crowd is probably more about consensual pain — then playfully slaps the thigh of the woman next to him.
REACTING TO REACTIONS
"So how many pizzas did you get delivered to your home?"
"I wasn't at home when it happened," he answers, although he does an impression of a pizza deliveryman's voicemail, then promises more updates on his web page. "Eventually I'll get all the hate mail up that I've received."
He claims he also got a few women offering him tail, "and I got lots of people who told me I would be getting some after going to jail. Which — how am I going to go to
jail
over this?"
The cameraman offers to film Fortuny turning himself in at the police station. But the truth is, no one has gone after him.
"I'm still waiting for a cease and desist letter to arrive — or an actual lawsuit!"
He remembers a
blustery comment
on his LiveJournal page claiming to have hired a lawyer. But so far all it's generated is a prank by another poster, who
described
leaving a taunting sign on that lawyer's office which read "ON UR CREGZLST POSTIN UR N00DZ!!!" under a drawing of the LiveJournal icon. (The poster added that while delivering the sign, "I spotted at least three Mexican transsexual prostitutes!")
Fortuny also laughs at the 20 "internet lawyers" who aren't actual lawyers, but "play them on the internets."
"If you're out there and you're making the whole 'illegal' judgment thing, just cite some law. I know some of you out there have gone after the whole privacy and 'intentional infliction of emotional distress', but even that's a little murky."
At one point he even seems to bait the online audience. When jokingly asked if he could swap some of the naked pictures he received, he stares starkly at the camera and replies "Considering that it's my property now, what the hell!"
But later he concedes that "If some good privacy law came from this, I'd actually be really pleased."
MORE VICTIMS?
The woman next to him adds an interesting observation from a Seattle blog. "Despite all the publicity about your ad, there were still all sorts of people posting all sorts of no-strings-attached sex ads with sometimes personal information and pictures right in the ad... So I don't think even you can stop people from trying to get their rocks off."
When asked about future experiments, he smiles. "I think it's only fair we go after women — and I should get what, two replies?"
He discusses the idea of posting an equally too-good-to-be-true ad aimed at women — maybe one pretending to be a sugar daddy. But Fortuny doubts it would have the same impact.
"Women don't reply to ads. What would be very telling would be to get replies from women to an ad like that and watch that none of them put up personally identifiable information or any of their photos or anything like that. Or if they do put up a photo, it's something that's going to be hard to identify."
But even he was surprised by the
copycat prankster
who lures victims into additional online conversations and researches their lives before publishing all their embarrasing details.
"I didn't even verify that the information is real," Fortuny notes.
"For all I know it could be the joke of the universe on me."
Also surprising were some of the positive reactions he received. "There's a feminist out there who went absolutely nuts, thinks I'm some kind of hero, exposing all these perverts who want to beat up women."
"Did you invite her over for a spanking?" his female companion jokes. "You should have."
Earlier this week syndicated columnist Dan Savage argued that the only villain was Fortuny himself. The men who responded "were doing the decent, responsible thing" - assuring a woman who was seeking a connection based on a trust, Savage writes. "They shouldn't be punished for doing the right and honorable thing."
Fortuny also had some responses that were just plain awkward. His parents laughed, he says, but he also had to explain his notoriety to the men he'd identified in a search for his biological father. What would he have done if a paternity test candidate had answered the ad? "Oh god," he groans. "See? I have my limits."
FINAL WORDS
The interview takes place during a rambly conversationally while eating noodles at a Pho restaurant in Seattle's university district. But all conversations ultimately lead back to Jason's stunt of September 4.

"Why do my noodles hate me?" the woman next to him asks.

"Because you're not treating them nicely. You're stringing them along and teasing them. Which is what you and all women do... Which fully justifies me posting as a woman... I strung them along. Teased them."

"So basically you gave them the same experience they would've gotten anyways."

"Yeah, pretty much. I teased their cocks."

He deep throats his spring roll. The camera zooms in, as he mock-viciously bites off the end. He points at the viewer, then the roll, and then makes a "think about it" gesture. Then continues eating.

"We'll put this on a DVD, mail it as a free consolation gift to everyone who participated."

By the end of the interview, he's taunting his online viewers. "I'm still alive... No one's killed me, no one's tried to kill me.

"If pizzas are the best you can do," he jokes, "oh my, this is sad. I got on the BBC, and the best you can do is pizzas?!"

See Also:
Craigslist Sex Troll Gets Sued
Dear Internet, I'm Sorry
The Secret Life of Jason Fortuny
In The Company of Jerkoffs