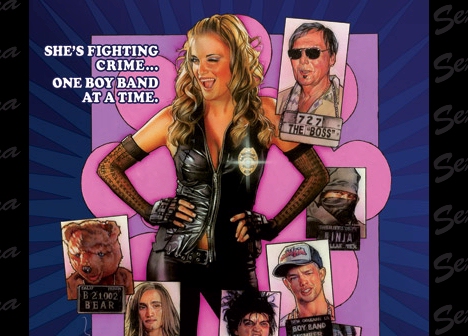 Ladies and gentlemen...meet Sexina!
A James Bond-style theme song rolls behind the opening credits of a new film featuring Adam West as a ruthless criminal mastermind. But its star is Sexina, part Britney Spears, part private-investigator-secretly-fighting corruption-in-the-music-industry.
79-year-old West plays a ruthless music industry overlord bent on destroying the sexy pop sensation with an evil boy band composed entirely of cuddly robots. The ultimate irony? The movie's theme is sung by Davy Jones, whose vocals for The Monkees in the 1960s make him one of the original boy band singers.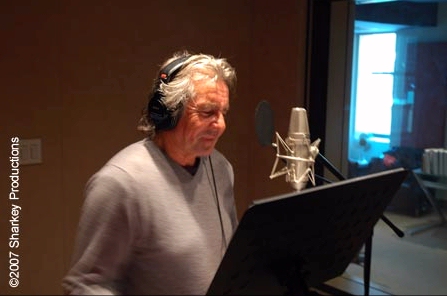 Click here to hear an excerpt from
Davy Jones' theme song for "Sexina: Popstar PI."

UPDATE: You can also click here for our list of
"Seven Forgotten Classics by Davy Jones
"
Sexina
is a very campy film, and Davy's track blends well with the tone," according to the film's publicists. It's one of 80 wildly original films being screened at the San Francisco's Independent Film Festival, now celebrating its tenth anniversary. ("What we're lacking in corporate dollars, we make up for with our devoted IndieFest filmgoers," according to founder Jeff Ross.) To promote the festival, the organizers even came up with their own bizarre trailer.
And
Sexina, Popstar PI
couldn't possibly be more indie. It's the brainchild of Eric Sharkey, whose resume includes uncredited work as a production assistant on the notorious
Glitter
(as well as
Vanilla Sky
). He's written, directed, and produced two previous films — though one was a four-minute short about a
Coney Island Alligator Hunter
(Her secret weapon: beer.) The other film,
I Got Lucky
, pairs a pot-head with a talking hamburger who can predict the future.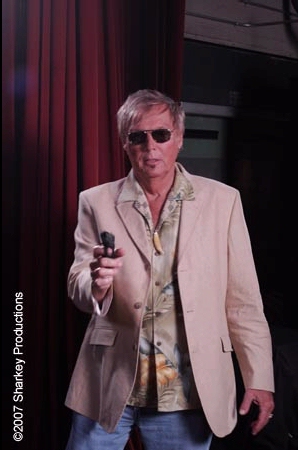 In his sexy new movie, Adam West, who was TV's original
Batman
, schemes in the shadows for ways to overthrow the pop stardom of the film's singing sensation, Sexina (played by Lauren D'Avella). Sexina — real name: Maude Jenkins — has withstood all challengers, including a rival singer named "Sir Stabs-a-lot."
But now she's facing new competition from a narcissistic teen idol named Lance Canyon. (Church groups complained about his controversial song, "You Need The Extra Deep Love," but Lance responds that "My penis was touched by god. They should just worship it.") By day, Sexina and her bodyguard Chainsaw deal with the pressures of show business. ("I don't want a rapping Jesus in my video!") But she's also moonlighting as a kick-ass detective.
"We have our best person on the case," says her adoring female boss. "She's tough, smart, and very sexy. She also has the coolest walk, and a great smile."
But watch out — this movie is filled with unlikely plot twists. ("Not only is G-Dog not really from Jamaica. He's also a robot!") Besides inspiring the young students at Britney High School, Sexina must also investigate a kidnapping — the daughter of yet-another former teen star. The film's crazy mix also includes ninjas, cannibals, a man in a bear costume, and even a brief parody of Barbara and Jenna Bush.
Sharkey co-wrote the theme song's campy lyrics. ("She has the boobs and the brains of a queen. She's every man's dream... ") It's not clear there's a message in his film, although despite the villainous Lance's anti-drug commercial, he's also a big hypocrite. "There's still plenty of weed, cocaine, and ecstasy for everyone," he announces to his party guests, "as well as heroin, crystal meth, horse tranquilizers, vicodin, Xanax, modelling glue, yellow jackets, black beauties..."
Lance probably should've listened to the movie's theme song more carefully.
She's wicked cool and that's a fact,
so evil-doer's watch your back.
She'll get you....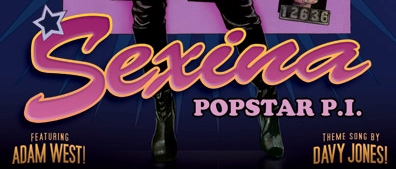 Sexina: Popstar PI makes its world premiere this week at the San Francisco Independent Film Festival. Catch it Saturday (February 16) at the Roxie at 9:30 p.m.

And click here for our list of seven forgotten classics by Davy Jones