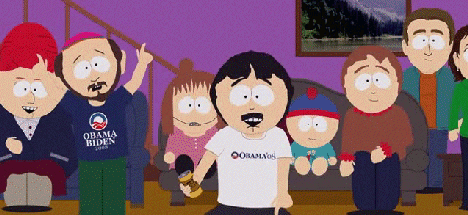 Susie Bright screamed naked.
The Santa Cruz-based author belonged to a Facebook group called "I will walk out my front door naked as soon as Obama wins!"
America went a little crazy on Tuesday night, finding a diversity of wild and wonderful ways to celebrate or to protest Obama's historic victory.
Here's 20 of them.
1. Naked in the Streets
2. Impeach Him Already!
3. The Last Word?
4. Funny Papers
5. A Cartoon Gamble
6. Radio, Radio
7. Gun Sales are Up
8. The Internet Responds
9. Catch-All Criticism
On Tuesday, a realtor in Georgia had also registered the domain I Blame Obama.com.
10. Flushing the Plumber
11. History by Hanes?
12. Wardrobe Malfunction?
13. You Betcha
14. No More Bushes
15. Ebert Gives a Thumb's Up
16. Predicted in the 60s?
17. The Ghost of Chicago
18. Rebellious or reasonable
19. What took you so long?
20. I Have a Dream
See Also:
Bush's Last Day: 10 Ways America Celebrated
Iraq YouTube Battle Footage
Why Sarah's Sex Life Matters
Drugs and Sex and Susie Bright
How a Barack Obama Site Made Me Famous