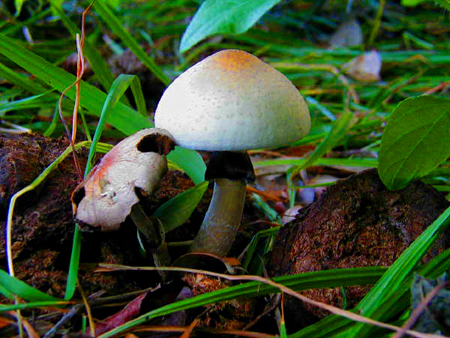 Willie Nelson and four others were issued misdemeanor citations for possession of narcotic mushrooms and marijuana after a traffic stop Monday morning on a Louisiana highway, state police said.
— Associated Press, September 18, 2005
Webster's Dictionary

defines a narcotic
as "a drug that produces numbness or stupor; often taken for pleasure or to reduce pain; extensive use can lead to addiction."
According to Medicine.net, the word narcotic comes from the Greek word "narke" which means "numbness or torpor." A second definition from the same site acknowledges that the word narcotic has slipped into common usage and has come to mean "A drug such as marijuana which is subject to regulatory restrictions comparable to those for addictive narcotics." Wikipedia tells us that, "A narcotic is an addictive drug derived from opium, that reduces pain, induces sleep and may alter mood or behavior. The derivation of the word is from the Greek word narkotikos, meaning 'benumbing or deadening,' and originally referred to a variety of substances that induce sleep (such state is narcosis)." From there, the Wikipedia entry goes on to acknowledge that "Many police in the United States use the word 'narcotic' to refer to any illegal drug or any unlawfully possessed drug." (Actually, nearly all narcotics are legal with a prescription, unlike Willie's shrooms)
The misuse of the word narcotic by America's legal system began early in the 20th Century. Legendary psychedelic chemist/researcher
Alexander "Sasha" Shulgin
told me...
The original meaning of narcotic was to define something that would cause narcosis — a numbing dopy state where there wasn't much feeling, and pain was lessened and sleep came easily. The Harrison Narcotics Act was passed into law in about 1915 give or take a couple of years, [ed: 1914] and it was basically a law making opium (and morphine) and coca (and cocaine) illegal.These were collectively called narcotics, and the term came to represent those two drugs (and their allies) for years. Illegal drugs were called narcotics, and the people who were employed by the Bureau of Narcotics were called Narks. In 1936 a super ego called Anslinger moved to put marijuana into the law and it was called by all the police, "another narcotic. " This was the status of Federal drug law until the sixties when the hippie movement took off. Clearly LSD and mescaline and STP (DOM) weren't like opium (the focal definition of a narcotic) so the Bureau of Narcotics weren't the right people to go after the users. So a new group was created, associated with the FDA, and called the BNDD or Bureau of Narcotics and Dangerous Drugs.The B of N and the FDA wore difference hats and competed for attention in the anti-drug fight. It all was resolved in about 1970 with the passage of the Controlled Substance Act bill and the creation of the DEA. It is quite a story.
Among the drug hip, the use of the word narcotic to describe mind-active drugs other than opiates carries with it an implicit irony. (Implicit only because irony, by its nature, can't be explicit.) On the other hand, the mainstream media, even the
San Francisco Chronicle,
from the drug-sophisticated Bay Area, tends to use law enforcement misnomers for illicit drugs, when reporting news around drugs. For instance,
one report
called the disassociative hallucinogen Ketamine a "date rape drug." There is, of course, no such thing as a date rape drug. There are drugs that were developed to be used — and are used — for other purposes that are, on rare occasions, used for date rape. And then there's alcohol, which has been the more easily available and frequently used substance of choice for date rapists since time immemorial. Unlike some other US papers, The
Chronicle,
at least, never reported on
an LSD overdose,
something that is virtually impossible to achieve, however hard some of us may have tried back in the days of heroic dose experimentation.
There are probably a dozen or so regular
Chronicle
culture and opinion writers who are sufficiently (intimately) knowledgeable regarding mind-altering plants and chemicals to inform the news editors about their mistakes, but who cares? No news agency will ever have a Dan Rather crisis for accepting and passing along drug misinformation. Indeed, nobody...
nobody
demands accuracy from the news media regarding mind-altering drugs or those who enjoy them.
Meanwhile, back to the concept of "narcotic" shrooms: As far as I've been able to decipher in one day's research, there are no opium-containing mushrooms nor are there any pharmaceutical relaxants or stupefiers that are derived from mushrooms. However, one source, who asked to be nameless, but who is associated with a company that supplies legal highs, told me that the
Amanita Mascaria mushroom
"can cause a kind of drunken stupor that can last a couple of hours, slowing you down until you pass out." Accoding to Ilsa Jerome, Project Coordinator for
MAPS
(Multidisciplinary Association for Psychedelic Studies), "The depressant compound [in amanita] is almost certainly muscimol, a direct GABA agonist, GABA (gamma-amino-butyric acid) being a major inhibitory transmitter. Other GABA agonists include benzodiazepines, GHB and ethanol." Other compounds in Amanita, however, likely have opposite, excitatory effects, so stupefaction experiences are rare, and most experimenters report mild psychedelic effects, with some disassociative properties. And of course, Psilocybin, the drug that Willie was actually carrying, is a psychedelic (mind-manifesting drug or plant); or as some would have it, an entheogen (drug or plant that causes one to experience the god within); or a hallucinogen (drug or plant that causes one to watch The Dead for five hours without getting bored shitless.)
I asked Jerome if she was aware of any relationship between the activity of psilocybin in the brain and the activity of actual narcotics (i.e. opiates). She noted that, "There are a few studies that describe the effects of psilocybin in people, but none alongside those of opiates." But she added, "We do know that psilocybin, like LSD, mescaline and a host of obscure related drugs, acts to 'switch on' certain serotonin receptors. All these drugs share activity at 5HT2A and 5HT2C receptors; from there, actions vary, but psilocybin also acts to turn on 5HT1A and probably 5HT1B receptors. Opiates act on at least three opioid receptors, those being represented by the Greek letters 'mu', 'sigma', 'delta' and 'kappa'
In other words, "they definitely have different pharmacological activities." (Technically, Dr. Shulgin points out, psilocybin doesn't cross the blood/brain barrier and make it into the brain. Only after digestion is Psilocin produced, which does get across the brain-blood barrier to produce the psychedelic effects. Shulgin says, "This accounts for the time delay from the eating to the turning on.")
Perhaps we should accept the term "narcotic" as a description of any illicit mind-active drug since it is now common usage. But the word still carries more than a whiff of its original connotations. Drug warriors and reductionists do think of all illegal drug effects in terms of stupefaction. Most psychedelic fans would argue that these substances result in the opposite of stupefaction. Indeed, the experience frequently makes trippers painfully hyper-aware. On the other hand, if you're hoping that your buddy who is tripping on a hefty dose of shrooms will help you sort the garbage for tomorrow's recycling pick up, you might consider the slacker — laying on the floor for six hours staring at the back of his eyelids — to be stupified.
Narcotics or no, Willie Nelson will remain an American institution. Universally loved despite his weird-ass mile-long ponytail, lefty politics, and blatant marijuana advocacy, maybe this Willie Nelson bust will help awaken our countrymen to the absurdity of the drug war and the assumptions that are built into it. Probably not, though. For one thing, people find so much entertainment value in celebrity run-ins with the law that they don't want to mess up the fun by making serious politics out of it. Anyway, most people seem to regard this endless game of cops-and-stoners as an irretrievable fact of life.