1. Dogs Barking in Cars.com
Dude, you're not even trying.
Vlogger Kyle MacDonald presents a series of canine captives embodying that existential truth that we're all tragicomic prisoners in the parking lot of life. Either that, or it's just
footage of barking dogs
. The site's clever tagline — "Dogs + Cars = Barking" — signals its minimalist approach. (Short clips, no commentary.) The dogs are the stars, and the site's reason for existence — whether they're bravely frightening potential intruders or just lunging in impotent fury towards the defrosting grill.
Maybe it's an absurdist parody of the vlogging experience itself, with each entry necessitating prosaic tags like "one dog," "three dogs," or "even barking people". (Who, it turns out, are barking
at
dogs.) Video titles add their own meaningless epitaphs to the sound and fury. Two girls laughing at a dog becomes "ha ha bark bark"; a cab-ful of huskies becomes "so many dogs. so much barking". And finally completing the circle, an upload page invites viewers to contact "Barkly McBarkalot" to share their own footage of more barking dogs.
Behold the future of multimedia. It's a terrible idea for a video blog — or is it? Just remember that the site's creator is the far-thinking genius who
parlayed
a paper clip into a house in Saskatchewan.
2. Father doesn't know best
In January, Josh Johnson decided to film his kids talking about
Hoodwinked
. Then he dubbed them "the Cinekids," and made them do it over and over again.
Young Nick fidgets morosely, his eyes darting in that surreal helplessness every child feels before a parent with a videocamera, while his sister Kayla babbles on.
"Superman is very good excepting when — especially when he caught, he was flying through the, he — this is Superman. (Holds up finger.) He was flying through the air, and caught an airplane. (With fingers) Like, VVVVVVVMmm. And that airplane had a rocket ship! And he was like, VVVVVVVVVMmm to the rocket ship. And they went into outer space. That was probably my favorite part."
And here's Kayla on
Santa Clause 3
.
"I give it 30 thumbs up because it's so funny and goofy and laugh la-yadda yadda yadda."
15 episodes later, and it's still painful to watch. The children — who look around 8 years old — offer their mangled commentary on movies like
RV
,
Godzilla
, and
Nacho Libre
. The preening father adds a credit for himself at the end of each of "their" shows, apparently hoping to ride the "cute" train to a 6-figure development deal from the Lifetime network. (He's already pressed his kids into a
family-friendly short
he directed, then included its trailer before one of "their" reviews of Tim Allen's
Zoom
.)
Unfortunately, exactly one person has subscribed to
Dad's YouTube feed
, where episode 1 was given three ratings by YouTube viewers — all one star. The clip was favorited 0 times, and commented on twice. ("crap!" 5 months ago and "Shit!" 1 month ago.)
3. Vlogs 4 Peace
Next time someone tells you "I wish all the vloggers would just shut up," send them to
Vlog4Peace
— a Twilight Zone world where video bloggers say absolutely nothing.
Pete Rahon urged video bloggers around the world to submit one-minute movies of "silence and peace" in an effort to create "a collective sound energy" which would bring transformation and communication to a troubled world. Rahon believed this could ultimately lead to the impeachment of President Bush ("Impeachment is so close to being mispronounced as in-peace-men!") and he called for "a million minutes for peace" — that is, nearly two years of amateur YouTube footage of people meditating.
He apparently abandoned the project 7 weeks later, leaving behind a Yahoo group with exactly two members and an
unnoticed post on Blogger
titled "Vloggers of the World Unite! Let us Vlog4Peace!" ("0 comments; 0 links to this post.")
It also drew mixed reviews when it was
uploaded to YouTube
, including commenter ShotgunVinny, who wrote "fucking load of shit!"
Apparently world peace has not yet been achieved.
4. Rocketboom
Rocketboom is like a broken robot that keeps dispensing dispatches from an entirely insulated world. For two weeks in November, every news tip viewers sent was bounced back five days later after their server refused to accept it. But what's even more significant is they didn't notice.
While bad amateur vlogs can at least be endearing, Rocketboom uses an alienating professionalism, dividing the world into talking heads and the rest of us. Their formula is simple (despite the "Web 2.0-speak" in the above interview clip). It's like a newscast, but shorter, with a token wisecrack for each story delivered with artificial sauciness by a 20-something British woman. Day after day Rocketboom plows ahead with preciously pretentious topics, in a slick yet uninspiring crusade to turn the web's grand global conversation into a one-way TV show.
Interactivity is reduced to a few dozen comments left on their web page, many of them one word. ("Hee-larious!" "AWESOME") with no shout-outs to other video bloggers. In a December stunt they displayed URLs for other non-Rocketboom sites which they'd suddenly discovered existed elsewhere on the web — but only for one 24-hour period. Now it's back to business as usual.
There's nothing particularly original or ennobling in filming an attractive young female reading news stories. (Over six years ago another video blog adopted a nearly-identical formula, with an even more commercial twist. It was called
The Naked News
.) Ultimately it was Ze Frank who summarized the popular reaction to Rocketboom in a series of vlogs which made the argument that they couldn't possibly be as popular as they claim — because they're so horribly, horribly lame.
Besides, everyone knows British accents are just a giant conspiracy to feign superiority over Americans.
5. Rocketboom Lite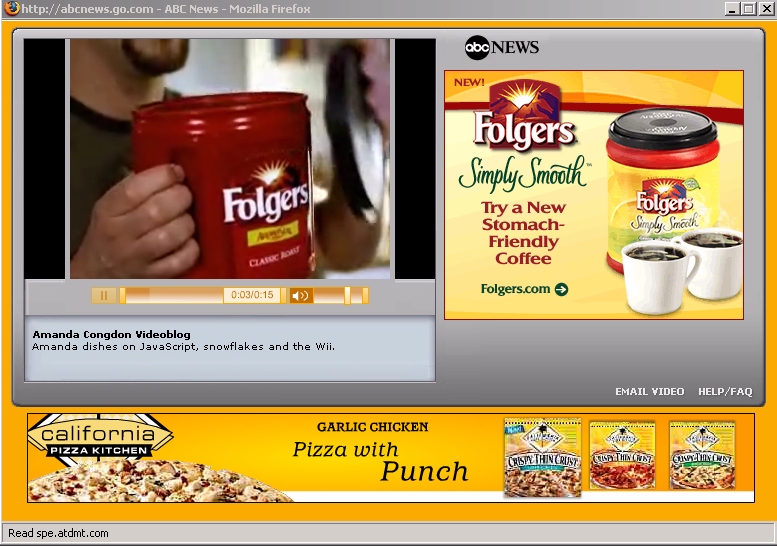 Even after two shows, it can only be described as "Like Rocketboom, but with ads. And not as good." Before viewers can even watch the clunky transitions of former Rocketboom newscaster Amanda Congdon, they discover that there's a mandatory commercial from the food and beverage division at Procter & Gamble. (During which her corporate overlords have decreed that pause buttons shall be disabled.) Immediate gratification from fast-paced video stimulation will have to wait until ABC-Disney is through shilling coffee — and even then, they've also decreed that a mandatory second ad shall be displayed at all times. ("Garlic Chicken pizza with punch! Now in your grocer's freezer...")
Also, no rewinding is allowed, ever. I know you can just start the program over from the beginning, but — guess what?
That means watching another ad!
It's painful to watch Amanda
feign enthusiasm
for pre-scripted jokes which aren't funny with a voice that's not resonant, and a personality that's not engaging. Bad acting, a lack of charisma, all under the mistaken belief that she's talented. ("Congratulations! I've arrived! You're welcome!" she seems to say.) It's an infuriating self-satisfaction which violates the web's original promise that online communication is open to everyone, and you don't ascend to a ruling class because you're cute and perky. (This week's crappy episode even appeared over the self-congratulatory and wordy headline "You Want Sexy and Irreverent? You Got It!")
"Try a new stomach-friendly coffee," urges the Folgers ad to the right.
While Amanda retains her trademark spin-to-camera-two move, she's jettisoned Rocketboom's lightning cuts, along with background music, outdoor interviews, and a sense of excitement. Now she's just going through the motions, possibly out of spite (according to some half-understood posts I skimmed on Valleywag). I can't think of anything less exciting than watching Andrew Baron feuding with Amanda Congdon, unless the whole thing
took place on a Yahoo group
. Maybe next they can argue in a comments thread on MySpace.
But it does offer a nice counterpoint to her show's smug, smirking cadence with its unmistakeble whiff of ha-ha-I'm-on-ABC-and-you're-not. And just as her delivery seems to be picking up some excitement, the show ends, to be immediately followed by yet-another ad! And then ABC News immediately shoves viewers into a non-consensual second video from their back bench of crappy video news stories.
Amanda Congdon's new show is the equivalent of deciding that Lite Beer isn't bland enough, and asking for a LITE lite beer. Is it unfair to compare Amanda Congdon's new video blog to footage of dogs barking in cars? No — because I hate it that much.
I will give her credit for breaking away from the formula, and taking chances in an attempt to find a new voice. I like how she plays video comments from other bloggers on her laptop during her own show. And to her credit, Amanda is acknowledging other weblogs and actively soliciting input from her viewers and the online community.
But as 2006 ends there are just 19 vlogs, according to a badly-researched category on
Yahoo
. (And one of them is just a Wikipedia page
defining
the word vlog.) In a weird way this proves the medium is genuinely new, and gives even the worst blogs the honor of being a pioneer. The worse they are, the more they prove that the medium is still wide open, and as Howard Rheingold used to say, what it is...is up to us.
See Also:
10 Video Moments from 2006
ABCNews Amanda Congdon - Rocketboom = Whuh?
2007 Re-Mixed
The Simpsons on Drugs: 6 Trippiest Scenes