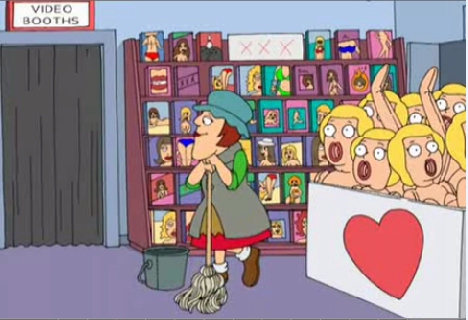 A porn shop in a cartoon unexpectedly triggered a lawsuit.
In the
Family Guy
episode "Peterotica," Peter and his friends go to the local adult bookstore. What happens next was apparently determined by the following sequence of events.
1.
Family Guy
asks Carol Burnett if they can use the theme to her 1970s variety show.
2. Carol Burnett says no.
3. They draw her into the cartoon as the adult bookstore's cleaning woman.
And then comes #4 — Carol Burnett
sues them
.
The Fox Network has expressed surprise, since she appears in the cartoon for only four seconds, but Burnett's lawsuit reportedly claimed violations of copyright and trademark law, plus a misappropriation of her name and likeness. This weekend a judge revealed what happens in step 5: Carol Burnett loses that lawsuit. According to news reports, a judge signed a ruling Friday that while the the
Family Guy
episode may offend her — the First Amendment allows parodies. (After all, her original variety show was famous for its own parodies.)
Carol Burnett is a pioneer in celebrity lawsuits. In 1981 she surprised legal observers with a successful lawsuit against the
National Enquirer
over a report that implied she'd been drunk in a restaurant with Henry Kissinger. ("In a Washington restaurant, a boisterous Carol Burnett had a loud argument... But Carol really raised eyebrows when she accidentally knocked a glass of wine over one diner and started giggling instead of apologizing...") She may have been vindicated over that slight to her public image, but as a public figure she's also fair game for ridicule. And thanks to
Family Guy
, an animated likeness of the 74-year-old comedienne can be glimpsed in some very unsavory company.
Like most
Family Guy
episodes, this one was a series of loosely-connected jokes, but this time they were tied together by the theme of adult books. Peter's disappointment at the adult bookstore's offerings drives him to write his own porn novels. (Including
Angela's Asses
,
Shaved New World
, and
Harry Potter and the Half Black Chick
.)
Ironically, in this episode of the cartoon, it's the Family Guy himself who is eventually sued — though for different reasons. Peter's own erotic novels are so steamy that they prompt one driver to remove his shirt while driving. (He'd been listening to the book on tape version of Peter's adult book,
The Hot Chick Who Was Italian. Or Maybe Some Kind of Spanish.
) This scene may include another dig at Carol Burnett, since the tape version of that book is being read by a regular guest on the Carol Burnett Show — Betty White.
Peter's career ends after the disgruntled motorist's lawsuit — and he also gets a surprise visit from... Betty White.
Perhaps foreshadowing the legal showdowns to come, she tells him, "I just got a subpoena for an erotic novel, and I'm looking for the son of a bitch responsible."
Click here to buy a DVD with this episode!
See also:
Top 5 Cartoon Hunks
Screech's Sex Tape Follies
The Celebrity Breast Conspiracy
The Porn Star, the Diva, and the World Wide Web
5 Sexiest Apple Videos
Dustin Diamond vs. Sgt. Harvey
5 Lamest Charlie Brown Cartoons