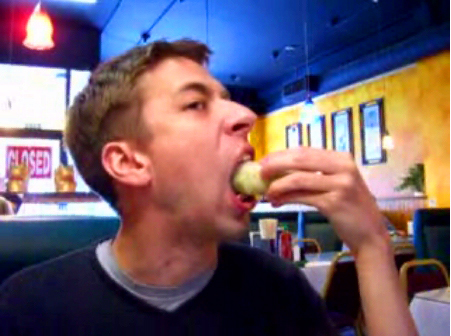 Jason Fortuny appeared in Sunday's
New York Times magazine — but he may soon be appearing in court.
Nearly two years ago, Jason Fortuny placed a fake sex ad on Craigslist pretending to be a woman seeking casual sex, and then published the photographs of anyone who responded. Now one of his victims has filed a $75,000 lawsuit against Fortuny in U.S. District Court, and this summer (after four months of effort) finally obtained a valid address for Fortuny and issued a summons.

Two weeks ago — as the New York Times was preparing their article — Fortuny was writing an eight-page letter to the judge finally defending his "Craigslist experiment" against the legal charges, and offering his own testimony about the event. "I take it back," Fortuny wrote recently on his blog. "You might get sued if you do a Craigslist Experiment..."

But it's still very complicated.


According to the suit Fortuny "acted with actual malice to harm and deceive the individuals responding to the Craigslist ad." The suit demands a jury trial and seeks a full slate of damages — compensatory, statutory, and punitive, plus attorney's fees and costs.
"Plaintiff has suffered, and continues to suffer, harm arising from the foregoing wrongful conduct by Mr. Fortuny," the lawsuit complains, identifying the victim as John Doe and arguing that the incident affected his private life "and the manner in which he is viewed among family, friends, and colleagues."
Fortuny's prank traumatized John Doe, it argues, causing him to "suffer and continue to suffer from humiliation, embarrassment, lost opportunity of keeping his family together, and emotional distress."
John Doe is asking that Fortuny be enjoined from publishing the photo, that Fortuny destroy his copy of the photo (and sexy email), and to "cooperate in the removal...from any cached sites."
The specific charges?
Count one: Violation of copyright act
Count two: Public disclosure of private facts
Count three: Intrusion upon seclusion
Count four: Injunctive relief
FORTUNY RESPONDS
Is he guilty of disclosing personally identifiable private facts? There aren't any, Fortuny argues. "In his communication, Plaintiff does not use his actual name, or provide any method of personal contact," he writes in his motion to dismiss — noting that the victim had used an anonymous email address.
And whatever Fortuny published, the victim had volunteered, the motion claims. "I did not obtain any information by intruding into Plaintiff's personal space, eavesdropping, or illegally intercepting any communication," Fortuny argues. "Thus, the disclosure of Plaintiff's e-mail is not, by its nature, personal or intrusive."
And what about the copyright law? Fortuny's motion says that there's been no violation of copyright law, since the photo he's republished is used "to discuss how DMCA law can be used to be chill free speech." (After the photo was removed from another site, Fortuny had re-published it in October of 2006 in
a blog post
called "Don't tread on me, or, how I learned to stop worrying and ignore DMCA threats.") Fortuny had filed a counter-notification disputing the copyrighted status of the photo. ("The counter notification basically says 'you're a liar liar pants on fire'," Fortuny wrote on his blog, "and adds that if you don't respond within 14 days, I get to put my shit back up.")
Now his motion adds that "The use of the photo is in reduced form, is transformative, does not affect market value of the original photo, and is for a purpose of education and public interest." The motion also notes that it's a 4-kilobyte image (and not the original 22 kilobytes), and "there is ample case law that protects the fair use of reduced versions of media, especially for the purposes of education and discussion."
THE VICTIM'S STORY
Yes, there were sexy shenanigans on Craiglist, but Fortuny adds that while he did re-publish this particular photo, "there was no malicious intent in my actions. This was never a plan to embarrass people or to single out a subset of the population."
The Craigslist griefer writes that he understands the hurt and frustration inflicted on the unsuspecting victims. But Fortuny also cites a clear warning in Craigslist's
terms of service
that the information on the site might indeed be inaccurate or misleading. "If I made the mistake of telling secrets to someone I didn't know online and it got out...I'd be kicking myself pretty hard. I would most definitely be shouting expletives at my computer screen. But that's the risk we all take online, as well as in life. Whether it's someone's e-mail, picture, or personal ad, there's no guarantee of identity, and no guarantee that you won't be betrayed. And there never will be."
But the plaintiff obviously disagrees. The lawsuit cites a section of Craigslists'
privacy policy
stating that users "agree not to post, email, or otherwise make available content that includes personal or identifying information about another person without that person's explicit consent." Making an obvious point, the suit notes that the plaintiff intended his sexy photo and email "to be a private communication between himself and the 'woman' who placed the advertisement... The public disclosure of these private facts represents an intrusion upon the privacy of Plaintiff that is objectionable and highly offensive to a reasonable person."
"The foregoing acts of infringement have been willful and intentional, in complete disregard of and with indifference to Plaintiff's rights," the suit argues. "Moreover, the uncertainty of the extent of the intrusions continues to cause Plaintiff a great deal of anguish and suffering." The facts disclosed "were not of any legitimate public concern," it argues, adding that "Mr. Fortuny acted with actual malice."
"Unless enjoined and restrained by this Court, Mr. Fortuny will continue to cause Plaintiff great and irreparable injury that cannot fully be compensated or measured in money."
FORTUNY'S STORY
Appealing to the court's sympathy, Fortuny shares a personal statement with his own perspective.
I've been asked over and over, "Jason, why did you do it?" To be honest, it was a small act that quickly spun out of control. It's not like I woke up that morning and said, "hey, I think I'll start a controversy today and get my face in the news."

I posted the fake ad with the sole intention to satisfy my curiosity about what kinds of people respond to such overt advertisements. I expected no responses. I didn't believe anyone would fall for such an obviously fake ad on a website that tells its users to exercise caution. When I received those 175 responses to my Craigslist ad, I was blown away by the utter disregard for personal privacy...
When Second Life's user database was hacked, the press coverage was minimal, Fortuny argues, while his own stunt generated a disproportionate huge wave of attention. "That there was so much coverage truly confused me," he writes, adding that "I've struggled to integrate this experience into my life, and to make it productive."
And Fortuny also argues that he doesn't ridicule the individuals who responded, but talks instead about "the larger issue of privacy on the Internet, and how to be proactive in protecting one's private information."
"[B]ringing legal action against me may punish me, but it won't change or even impact online culture in the positive ways that I describe above."
But for the moment, he's left grappling with the legal nuances of his defense. For example, he points out that though both he and his victim live in Washington state, the suit was filed in federal court in Illinois. (The suit argues it's a federal issue, and that Fortuny also spoke about the incident at a "Lulz Con" in Chicago.) There's one more interesting wrinkle. The plaintiff
did
copyright his photograph — but apparently as an after-thought. (Fortuny published the image on October 6 of 2006, and the plaintiff began his copyright filing on October 12.)
The Plaintiff is seeking to punish my discussion of his DMCA actions by abusing the intent of copyright law, stretching the common law terms of privacy, using unverified e-mail as alternative process, and side stepping personal jurisdiction...

I have never been afraid to answer for my actions and to face anyone who takes exception with me. This case, however, is quite different. This is a case of a person trying to get his pound of flesh out of me for my perceived wrongs.
Fortuny argues that tactics like the victim's frivolous DMCA notice "erode the free speech rights of Internet users everywhere, especially the growing world of bloggers and other self-published groups. When an individual uses copyright law and privacy torts to silence critics or unjustly control publicly relevant discussion, it damages everyone's rights."
Ironically, the day after filing the lawsuit, John Doe's attorney had to ask the court to delete the copyright application because it revealed his embarrassed client's real name.
AFTERMATH
Almost two years later, more than 180 responses
remain online
at Encyclopedia Dramatica, including photographs of more than 94 men (and in some cases, close-ups of their genitals).
Fortuny reportedly copied the text verbatim from an actual Craigslist ad, which gave his lure an extra authenticity. "i am 27 yo sexy str8 woman, 5 ft 7 in, 145 lbs..." the ad promised. "send ur stats and a face pic and i'll return mine to you..."
looking 4 ruff man, harley rider... i have a leg spreader, crop, cane and metal cuffs. spit on me, verbally abuse... "i am looking 4 a white or latin only, str8 brutal dom muscular male 30-35 yo who is arrogant, self-centered, nasty, egotistic, sadistic who likes 2 give intense pain and discipline...
But so far the resulting legal actions have been centered on the uses of
copyright law.
Neither "John Doe" nor his lawyers returned our request for a comment — nor did Craigslist or the EFF. But Jason Fortuny did, urging internet users "protect your free speech rights. Stand up to copyright and DMCA law abuse."
But so far, he's standing alone. ("Let me introduce you to my amazing lawyer," Fortuny
wrote
on his blog. "Me.") He contacted the Chicago ACLU, according to the post, saying that they replied that handling e-mail was "too complicated, could you please send us a fax." So faced with expensive legal fees and his own counter-arguments about copyright law, "here I am, going Pro Se on this. This is going to be fun."
In an email today, Fortuny conceded that "The case is at a very early stage, and it's not at the forefront of my brain right now." But a hint of his true sense of impunity may have slipped into his letter to the court. "I make no excuses about who I am," he writes in his motion to dismiss. "I am frequently rude, unsympathetic, unempathetic, and politically incorrect, to put it mildly.
"But there's no law against that."
See Also:
Jason Fortuny Speaks
The Secret Life of Jason Fortuny
Good Griefers: Fortuny v. Crook
Dear Internet, I'm Sorry
In the Company of Jerkoffs