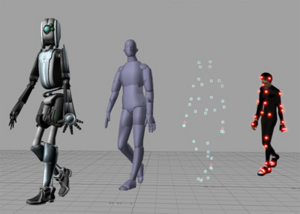 I just looked at an exposé
from reporter
Debbie Nathan,
who attended a research convention of
The Academy of Forensic Sciences
to discover what the geeks at the FBI have learned about the relationship, and potential, between "real" and "computer-generated" pornographic images.
The police's particular interest, in this case, is child abuse. Sexualized images of real children are illegal, but computer-generated images are not prosecuted in the U.S., as yet, because they don't show actual kids.
This debate has gotten hotter, because it's now difficult to tell what's real — computer-editing programs are facile enough to turn anyone, theoretically, into an amateur touch-up artist.
Many questions also arise from the Feds' investigations. Do virtual pictures attract people with ill intent or actions toward children? Or is this a bizarre, if preferable, method of harm reduction?
About the author: Susie Bright is the host of the weekly Audible.com podcast, "In Bed With Susie Bright." For a free month's subscription, click here. The audio version of Susie's analysis can be found here.
Debbie Nathan is perhaps best known for her book,
Satan's Silence: Ritual Abuse and the Making of a Modern American Witch Hunt
about some of the widely covered sex panic cases that rocked the U.S. in the '80s and '90s, such as the McMartin preschool case in California. Here's what
she wrote
after returning from the forensic scientists' conference.
"Back in the 1990s, the government outlawed computer-generated ("CG") images of sexualized children. But a few years later, ruling in a case called Ashcroft v. Free Speech Coalition, the Supreme Court said CG child porn is legal... the general consensus was that the technological state-of-the-art for CG human images wasn't so good anyway.

If you concocted a CG image of a child having sex, the thinking went, it wouldn't fool anyone, because it was too low-tech to seem real.

Within a couple of years, though, people caught with child porn images were going to court and claiming they didn't have anything real, only CG — and that if the government thought otherwise, it would have to prove it.

The government developed several responses. One: find the actual child depicted in the pornography, and bring that real child into court, or bring in the cop who handled her case. This would show beyond a doubt that the defendant's material was not computer-generated.

Another strategy is to match the images in evidence to others previously collected by the feds, then show that the whole set dates to pre-Photoshop times, back when anything that looked like a photograph of a real kid really was real.

But what if child victims and old photo sets aren't available? A third government technique is to tell courts that the average person (an FBI agent, a jury member) can still distinguish what's real and what's CG, just by looking with the naked eye.

Is this true? The government would like us to think so. But in point of fact, the boundary between real and CG is getting fuzzier by the year – and the feds are nervous."
Check out
Debbie's site
to see more incredibly realistic (G-rated! of course) computer-generated images, and to read the rest of her story... it's a science fiction novel come to life:
"After [the experts'] presentations, it seemed clear that the technology exists to make real child porn look fake. And — much more significantly — to make CG porn which looks genuine enough to fool ordinary people.

An obvious question that comes to mind, then, is: how much of this sophisticated child CG porn is already on the Internet?

My sense from attending the workshops is: Probably hardly any.

But the scarcity has little to do with technology. The digital world is now rife with graphics professionals and hobbyists who spend lots of time creating reasonably real-looking virtual people as still images – adults and kids. CG adults (especially women) often look "sexy." Sometimes they're even having sex. But virtual kids are not portrayed sexually (though teen girls often look "come hither"). CG kids remain chaste, probably, because there's no commercial market for child porn and thus no significant money to be made by doing virtual renditions of the stuff.

Hobbyists, of course, don't need money to pursue their passions. But even they are probably reluctant to do CG child porn. It's not like they can post it on graphic arts websites and get props from fellow artists.

Plus, virtual child porn is legal in the US, but it's outlawed in many other countries. If an American's CG smut got emailed overseas, he could get in big trouble."
Nathan's final conclusion?
" Given the above, I bet most defendants and their attorneys who raise the CG defense are bullshitting. They've probably been caught with the real thing.

But for how long will almost everything on the net be real? One thing is certain: if something becomes possible for human beings to do, someone will do it."
See Also:
Sex Panic: An Interview with Debbie Nathan
The Perversions of Perverted Justice
The D.C. Madam Speaks
Sex and Drugs and Susie Bright