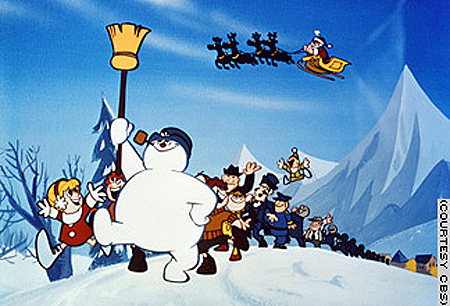 Yes, Christmas traditions
pass from generation to generation. But this year finds Santa visiting some
very
naughty children playing with YouTube, digital editing software, and a wicked imagination. They're dreaming of a Christmas that's web 2.0 — with networked audiences re-interpreting all the classic holiday specials. Or maybe they're just returning the holiday to its pagan roots.
1. A Charlie Brown Christmas — the alternate ending
Charlie Brown is TV Christmas's ultimate icon. Which is probably why he's been targetted for an alternate ending that "they don't want you to see." Though his voice is now different, Charlie Brown still delivers his familiar down-hearted dialogue. ("I guess you were right, Linus. I shouldn't have picked this little tree...isn't there anyone who knows what Christmas is all about?") Also like before, Linus calls for lights, and patiently and gently promises to explain.
But the story he tells is not about shepherds. "When we were babies, our parents made a conscious decision to deceive us," Linus announces. "They created a bunch of fairy tales like Santa Claus and baby Jesus to give us kids false hope, and to comfort themselves as they approached death." And Linus is just getting warmed up. "It's all a bunch of bullshit. When we die, our bodies lie rotting in the earth, and worms and bugs eat at our remains, and shit us out into little bits of nothing."
Wait, wait, there's more. Linus is building up to the
true
true meaning of the holidays. "Christmas isn't about giving love or the birth of a savior. It's about moving merchandise, and false sentiment. It's about dumbass cocksuckers like Charlie Brown running around all night trying to buy a goddamn tree..."
One last time Linus savors the irony that Charlie Brown bought "a dead fucking tree" — and then it's a small step to "God is dead, hail Satan — Charlie Brown must die." The gang builds a pyre in front of Snoopy's house, and performs goddless sacrificial rites while singing "Loo loo loo..."
Like the original Peanuts special, it denounces commercialism. But unlike the original Peanuts special, it will probably never be sponsored by Zingers.
2. A Christmas Story — Ralphie's packin' a Red Ryder
"A disturbed young boy... On the edge of sanity...
Various attempts have been made to re-dub
A Christmas Story
. In one, as insinuating horror movie music plays, blood-red letters identified forgotten themes in a movie you thought you knew.
"A dangerous obsession... An emotionally empty Santa..."

The troubled boy with glasses raises his blue eyes, and stares at the ceiling, "Until finally the pain, the snowballs, and the soap become too much..."
Oh my god! The camera zooms in on his angry boy eyes, lips quivering angrily, as Ralphie the ticking timebomb explodes! Fists flying in boyhood fury, he bloodies the face of underserving bully Scut Parkus. His parents scream and flail helplessly. HE'S LEVELLING A RED RYDER B.B. GUN!!!
That revision of
A Christmas Story
was created by a now-defunct web site called "Lifeinthe80s," but they're just one of several groups re-editing favorite family movies into horror film trailers. (See also:
Scary Mary
.) Someone else had already imagined a movie trailer for
the Yule Log DVD
. But
A Christmas Story
, with its 94 minutes of pent-up frustration, cried out for something scarier...
Speaking of dangerous obsessions, the movie itself inspired a 30-year-old in San Diego to
sell 7,500 replicas
of the movie's famous leg-shaped lamp-with-a-fishnet-stocking. He used the money to buy the Cleveland house where the movie was filmed - then paid an additional $240,000 to re-model it exactly, watching the movie frame by frame.
Maybe he's a ticking timebomb too, just one snowball away from exploding into Christmas mayhem.
"Ralphie's packin' a Red Ryder. The holidays will never by the same."
3. Rudolph the Red-Nosed Reindeer — the unrated version
Burl Ives is probably glad he's dead. Someone with time on their hands re-worked
the original 42-year-old Claymation story
into something entirely different. Like the Rankin-Bass original, it opens when a kindly talking snowman discovers you haven't heard about the year Christmas almost wasn't.
"Well, sit your ass down," he says brusquely, and starts describing how children of the world suddenly lost their interest in toys. ("What the fuck?" Santa asks in a newspaper headline.) Santa leaves the North Pole to spy on the children, and discovers that it's because they're...masturbating.
Santa realizes they've discovered "the one toy better than any Santa can make" — and Christmas is canceled. But the frustrated re-dubbing artists at
Liebography
cling to their premise for nearly 10 minutes, filling the North pole with an unrelenting snowstorm of dirty dialogue. Santa develops an unwholesome interest in "a cute little deformed buck named Rudolph" who flees Santa's attentions with "another of Santa's special pole polishers" to — what else? — the Island of Misfit Sex Toys. ("How would you like to be a pocket vagina made out of abrasive sandpaper..." "I'm a homophobic strap-on!") Of course it ends with a very merry Christmas, but probably not the one you're expecting.
"C'mon Rudolph!" shouts jolly old Santa. "Let's go get some of those retarded dildos! Moms and dads love them too!"
4. Frosty the raging anarchist
Frosty the Snowman
has always been one of the creepiest TV Christmas specials. Three children are stalked by their grade school's hired entertainer, and seek sanctuary with a deep-voiced simpleton who really likes children. A lot. Eventually he dies.
One re-dubber simply stripped out the implausible plot points in between, then also stripped out the innocent dialogue. And then replaced it with death metal.
"I want your soul," the cartoon snowman tells the children.
"I'll eat your soul." They look up in wide-eyed wonder...
With some simple editing, the snowy sentiment becomes salacious. "I want your soul," Frosty sings again, as a leapfrogging boy appears to be lingering over his ass. The blonde girl whispers something to a policeman, then looks down sadly. She's seen grinding against the floor of a refrigerator car — over and over and over — as an attentive Frosty looks on smiling.
The little blonde girl opens her eyes to find he's carrying her, smiling, into a sinister greenhouse. ("Come to Daddy," he sings.) Santa and the rabbit recoil in horror. A sad Frosty looks around guiltily as he's identified by witnesses — the children, the rabbit, and finally the policeman. This re-imagining is a little muddled, but it ends with five very clear words.
"And Frosty was never convicted."
But then again, there was always an easy target in the girl-snowman relationship. Elsewhere, nine minutes of the cartoon have been re-dubbed with the voice of
"Danny the Tourettes Guy"
. (Frosty's first words are "Bitch, I love you.") Someone else has
imagined him
as a belligerent man in a costume heckling the credulous children. ("These kids are so fucking gullible. God damn it, I'm a fucking snow man.")
But it's worth remembering that even without any web-enabled commentary, the original cartoon made one blogger's
list
of the "Things About Christmas That Are Supposed to be Touching But Pretty Much Just Make Me Want to Lay Down and Die." The melting snowman had traumatized her as a child. "What's the lesson here? That someday everyone we love will die...?
"I still can't hear 'Frosty the Snowman knew the sun was hot that day...' without being overwhelmed with dread."
5. The Nightmare Before Christmas — Burton's little helpers
Tim Burton saw Christmas as the backdrop for another fable about a magical outsider. But just as his king of Halloweentown was re-imagining Christmas, Burton's fans dreamed up new ways of seeing his movie.
As Sally stares at her Christmas tree catching fire, Jack Skellington sang the histrionic song "Iris" by the Goo Goo Dolls. In another video the same scene showed the star-crossed Christmas outsiders with an
alterna-goth soundtrack
by Evanescence. One video even re-dubbed the movie's opening song, so its chorus of "This is Halloween" becomes the Tool song "Stinkfist" (from their album
Aenima
).
Something has to change,
undeniable dilemma.
Boredom's not a burden anyone should bear...

Burton's visual extravaganza lends an intensity to nearly anything, and
musical synchronicity
does the rest — creating the perfect gothic Christmas. They're not the only ones celebrating it. If you visit Disneyland's Haunted Mansion in December, the whole attraction has been converted into a special Christmas party
for Jack Skellington
, and one Youtube video even shows Marilyn Manson's new cover of "This is Halloween"
synched with the scene
where it occurs in
The Nightmare Before Christmas
.
Ultimately Christmas is what you make it — a jumble of gifts, memories, mandatory family gatherings and religion. But while there may or may not be something sacred in the holiday, there's an online audience that won't extend that reverence to Christmas's commercial counterparts. Maybe they're creating a new ritual, gathering together around a warm monitor and sharing catcalls instead of Christmas carols.
Maybe we've just seen the ghost of Christmas future.
See Also:
5 Retarded Online Christmas Videos
Death at Christmas
A Christmas Conspiracy
They're Dreaming of a Boobs Christmas