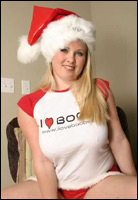 It's "The Breast Christmas Ever,"
promises California radio station KLLY. Whichever lucky listener wins their holiday-themed contest will receive a special prize — breast enlargement surgery.
Surprisingly, it's happening in other states too. Monday, Florida's "MJ Morning Show"
announced
that "Santa Claus is bringing a big bag of boobs to your town this Holiday Season" for their "Holiday Hooters" contest. The show — which is rebroadcast on two other Clear Channel stations — has been giving away breast jobs in tacky contests since November, with the prizes awarded to the listener (in this case, "Borat's sister") who submitted the most compelling story. ("In my country, you no see big boob on women because hard to find doctor to do nice boob surgery.") Now that it's Christmas time, radio stations have apparently just adapted their contest plans to the holidays of the season. KLLY announces their contest with green and red letters, above a promotion for their Toys for Tots telethon.
The contests drew
criticism
from the National Organization for Women, who said the Clear Channel stations were "promoting potentially dangerous plastic surgery and marketing unrealistic and unhealthy images of women." They urged their members to take action, saying that "When a radio station in your area degrades women in any way, look up their phone number and call to complain." A Google search finds these remarks in a NOW Action Alert — issued in 2004. Apparently it failed to stop the contests.
They weren't the only ones complaining. CBS's
Dick Meyer
called it "profitable entertainment that preys on female insecurity, male boorishness and coed voyeurism." And feminist Germaine Greer famously
compared
breast augmentation surgery to
Africa's female genital mutilation
. But as the winning essays go online, they form a weird snapshot of the way the contest-entering women view their breasts, their bodies, and the world around them. "Every year my husband will say, 'What do you want for Christmas/Birthday/Anniversary?'" wrote one winning entrant. "Every year I tell him — new boobs."
Another winner even composed a long rant comparing her potential new boobs to a video game console.
My husband wanted a Playstation 2 when it first came out so bad, more than anything. In fact it was one of our wedding presents! Now that he has one, guess where it's at? Collecting dust under the entertainment stand, coaster marks on it and everything. With your boob give away, they would gets lots of use for years and years after."

It's all about getting attention — though in some cases it's simply the attention of the contest's male judges. Some entrants wrote themselves into silly stories in the hopes of being selected. ("These Holiday Hooters are the way for me to score the love of my life: Kevin Federline! Now that he's left that piece of trash, Britney, my life will be complete.") The contest's first winner had actually acknowledged the real-world issues that surround unwanted male attention. Evelyn Mora submitted a sardonic essay citing the notoriety surrounding a local tax collector who had recently apologized for "inappropriate conduct" in a bar in Tampa. In her essay she wrote, "Imagine my embarrassment when even Doug Belden won't sexually harass me because of my small chest."
"We understand it to have been an ill-advised joke," said a grumpy attorney for the scandal-plagued local tax collector in a
follow-up news article
. Ironically, the winning essay-writer works for the city's Circuit Court, prompting the court spokesman to issue a statement of his own about the breast surgery contest. ("As of this time, all of our information leads me to believe that she did not utilize the office in any way to participate in this contest.")
Controversy apparently clings to anything
breast-related
— and behind the scenes lawyers are scrambling to close any legal loopholes. "Winner must be in good medical condition to undergo surgery," read the rules for the California station's version of the contest. "Clearance from a physician may be required prior to any procedure performed." (And remember: "All prizes are non-transferable.") KLLY also notes that "In the event that a winner is under the age of 18 and travel is required, the winner must be accompanied by a parent or guardian." (Though presumably that's just their boilerplate verbiage from another contest.)
The Florida contest has similar rules. "If, for any reason, the providing physician deems a winner not a viable candidate for surgery, the winner will be disqualified and the prize becomes invalid." They also hint at another problem in their offer to "help offset" the cost of additional fees — operating room charges, anesthesia charges and lab work. The FDA recently approved silicone implants with recommendations of additional MRI scans every two years for the remainder of the patient's life — which won't necessarily be covered by health insurance. Breast augmentation surgery requires several hours of anesthesia, an often uncomfortable post-surgical recovery period, and in many cases follow-up surgery to replace the original implants. "Any additional costs incurred pre and post surgery are the sole responsibility of the winners," warns the radio station. (Adding "Prizes are not redeemable for cash.") And remember: only one winner per household.
Winners of the California contest will have their breast augmentation surgery performed by Dr. Kerendian of Beverly Hills, whose web site
notes
he has a "life long passion" for cosmetic surgery. (For even greater gender differentiation, he also offers male breast
reduction
surgery.) A concern for the human form is apparently a common trait in his family. His brother placed an ad in New York's Village Voice saying, "Stop being fat and start doing something about it."
It's a case where the media spreads its message far and wide. In Florida the slick Clear Channel radio personalities launch a successful stunt for listeners. News of their success reaches radio programmers in the agriculture communities in California's Central Valley. There's already an extra focus on body image coming from their local gymnasium, and a cosmetic surgeon two hours away in Beverly Hills.
So they take that fateful first step. Above their contest for tickets to Disney's "High School Musical" they add a second contest for bigger boobies. Since Christmas time is rolling around, they casually add it in among the messages of love and family and the birth of the son of God.
And when the holiday arrives, maybe their listener's thoughts will turn to the world they described. They'll be snug in their beds, with warm thoughts filling their heads, but instead of sugar plums, it's visions of surgically augmented melons.
See also:
CNN Exposes Boob Job Giveaway
The Celebrity Breast Conspiracy
Adopt an African Hottie's Clitoris
Libertarian Chick Fights Boobs With Boobs