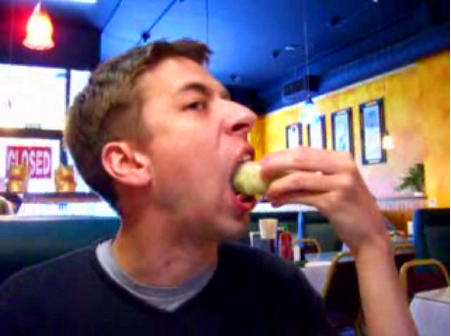 Jason Fortuny has become famous
as an online menace/hero after posting the photos and come-ons he received from nearly 150 men responding to a fake sex ad he placed on Craig's List. He's started an intense debate about the nature of online privacy and dating.
But beyond the practical effects of the experiment, what kind of man would commit such a dastardly prank?
Researching that question, I stumbled across Jason Fortuny's
Amazon reviews
. He read and reviewed exactly one book over five years -- and two soundtracks for Star Trek movies. ("Reviews written: 4." Helpful votes: 0.) He also awards 5 stars to National Lampoon's
Van Wilder
("Reviewer Matthew K. Minerd totally needs to get laid. Dude, relax! It's just a movie.")
He's also been
sexually molested by his grandfather
.
"I haven't talked to my parents or the rest of the family in 11 years," he wrote in a
post
on his LiveJournal account in May. It's one of many suprisingly frank glimpses into the 30-year-old's life. "[I]f you had a family where four different members molested you, your mother tended to the prime molestor instead of you, and your stepfather utterly failed to provide for a future, you'd be pretty pissed, too."
Later he
posts
that two of the perpetrators are dead, and two were under 18.
While there's no guarantee that his LiveJournal posts are true, they offer intriguing glimpses into the personality behind the prank. When someone suggested in May that he keep his current contact information from his family, he
answered
, "it's too late for the contact information. It's all available out there. Part of my online persona is to hide nothing. Let the psychos come to my door -- I have a pellet gun and a baseball bat and occasional bad breath." He jokes in a
later comment
that "I miss the days when it was just trolling and making fun of fat people. Life was so easy back then!"
Another poster
advises
, "just make sure you have someone you trust who you can rant and freak out to if you need to."
"LiveJournal?" he answers.

Eight weeks ago he split with his fiancee. Seven weeks ago he posted about his difficulties with his thyroid and testosterone levels. ("If it works, one of the first things I should notice is the return of my energy, followed by the return of sexual function, followed by weight gain, followed by increased body hair.") He hints at biochemical depression. In July he began selling his Star Trek trading cards to cover $2600 in debt. "Looks like its time to eBay my stunning collection of original Star Wars and Transformers toys and action figures...," he writes. "There are some heartbreakingly awesome Transformers and Star Wars toys in there. I am profoundly sad..."

He also describes a history of malicious pranks. He apparently once claimed to have put pictures of someone's children on a child rape site. In January of 2005 he'd faked a sudden conversion to born-again Christianity, in a post which received 448 comments. ("I was sitting there, New Year's Eve, drinking alcohol by myself, in my underclothes, abusing my body to images of Rod Serling on the TV... And then, without warning, the flood of emotion I had tried so hard to block forced it's way into my consciousness...") This June he'd tried a Livejournal "whoring" project, "friending everyone".


But on May 8 he
posts
that a friend commented "I no longer have that annoying 'must be the center of attention' drive anymore." Then adds his own self-analysis about his past motivations. "...my ability to keep a crowd entertained and charmed was a major pillar of my self-esteem. If nothing else, I could rock a party. I certainly didn't believe in my professional abilities then like I do now. And, I didn't want to admit that it was annoying. All I cared was that I got my boost when I did my thing - friends be damned."
Fortuny's LiveJournal entries detail everything from his
search for his biological father
to his recent
STD test
. There's the
checklist for the perfect woman
, and the poem he'd written
for his fiance
in December. He even jokes about falling for
someone else's prank
-- pretending to be fired over a LiveJournal post. He posts
downloadable copies
of
Star Wars
,
Fight Club
,
Blade Runner
and
Batman Begins
, and in April he was attacked by a
mailbox-flooding bot
.
While it doesn't resolve the question of what motivated his sex-ad prank, it at least demonstrates an online persona that can be abrasive and negative. He
complains
that "friends' private entries have been read by psycho womenz. Psycho womenz that I went out on a date with once and reeled in horror when she bared her five year old and her smoking teeth..." He
mockingly rants
against the Girl Scouts, adding "I swear to god the only reason I don't shout at every last one of them is that I know all little catholic girls are uninhibited sluts, just waiting to be liberated from oppressive and neglectful fathers and gods, into the arms of a bustling, accepting, healthy porn industry."
But behind it all are the hints of something much darker. He writes of
zombie nightmares
-- and family nightmares. "While my nightmares of my parents
have not returned
," he wrote in June, "I have others that bring up similar feelings of righteous anger. We'll see."
See also:
Craigslist Troll Gets Sued
Good Griefers: Fortuny vs. Crook
Jason Fortuny Speaks
In the Company of Jerkoffs