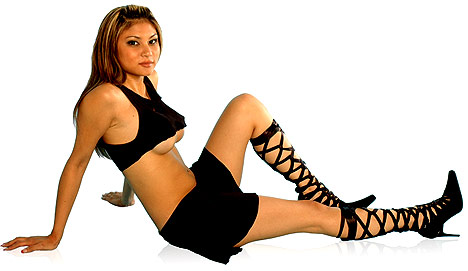 Wednesday CNN's Headline News
delivered a hard-hitting expose — on a web site offering free boob jobs.
After showing the obligatory footage of the site's models, CNN reporter Erica Hill asked commentator Glenn Beck what he thought of MyFreeImplants.com. (Beck's first comment was a request for another look at the site's photographs.) But Erica Hill remained unimpressed, arguing that if she wanted to pimp her photograph to earn boob job money — she'd just do it herself.
This titillating report overlooked the fact that the site's been in operation since 2005. It was started after a Vegas bachelor party, if you believe the site's history page. My Free Implants hopes to attract registrations from both female and male customers — offering the women a chance to "work their way" to breast implants by instant messaging and chatting with the site's male customers. (Along with sending them customized photos or selling "personal items or gifts".)
"Ladies," it asks. "Have you ever wanted bigger breasts? But couldn't afford the expensive costs of surgery?"
"Gents. Help the girl of
your
dreams get the body of her dreams..."
"Do I have to pose naked?" is a frequently asked question. (No, a FAQ explains, though some ladies "choose to reward donors with sexy photos," and just how "sexy" the photos get "varies greatly from person to person.") The site graciously informs its female members that they "can upload an unlimited number of pictures of yourself," and brags without irony that it's uniting the women with "benefactors" who "wish to help these women improve their self esteem and confidence..."
If you're skeptical, don't worry. My Free Implants also includes what it says are the women's testimonials about their visits to their plastic surgeons. "Lemme see what ya got here, buddy," one woman reports her surgeon as saying.
I actually laughed out loud, but then I realized he was serious. So I showed him what I got here, buddy... Needless to say, he took one look at my breasts and said, "Holy Mackerel! I've seen 14 year-old boys with larger breasts!" No, he didn't. He just squeezed them. Then he squeezed them some more. Then he pointed to my nipples and said the implants would perk them up....and then squeezed my breast again to show me how my nipple would pop up. I felt a bit like Charmin by the time he was done...
In fact, My Free Implants is very proud of its accomplishments, saying they are "on pace to average" one free breast augmentation surgery every month. Another page boasts that "MyFreeImplants.com is the first website of its kind to harness the global power of the Internet to service the unique needs and desires of its members."
There's a page showing "before and after" pictures, of course — plus what it says are excerpts from the press coverage.
"See that's what makes our country great!"
— Jay Leno

"You're doing the lords work! I want to thank you..."
— Former Loveline host Adam Carolla

"...honestly the government should be funding this site it's so great!" — some deejays from KROQ
Click here to watch a news report about the site.
It proves an age-old truism about the internet — where there's breasts, there's an audience. But apparently their business model has still gone through some changes since 2005. "We used to offer a wide range of free cosmetic surgery procedures," the online FAQ explains, but "we discovered over time...that those that were contributing to fund the surgeries, were really drawn to the site based on the concept of helping to fund free breast implant procedures." (Although this is contradicted by another page on the site which still announces that "we do have relationships with a variety of cosmetic surgeons and often provide our female clientele with other cosmetic surgeries at no cost.")
Women can choose their own surgeon, of course — and in fact, the site appears to be making a hefty income just from banner ads touting various cosmetic surgery centers.
They're also offering the services of the site's official spokesmodel. "She was the very first lady to reach her goal of earning a free boob job," the site explains, and Natasha "now takes time to help other women in similar positions." And, it adds, she's also available for "modeling assignments." She must have taken MyFreeImplants.com's unique philosophy for success to heart:
"You do not need to possess anything but an open mind and an adventurous spirit."
See Also:
The Celebrity Breast Conspiracy
World Sex Laws
They're Dreaming of a Boobs Christmas
Sex Expert Susie Bright Let's It All Out
Libertarian Chick Fights Boobs With Boobs
Downfall of the Seducer